REVIEW - The Enemy Within: The High Cost of Living Near Nuclear Reactors by Jay Gould.
Fair Use Statement
About Buying Books Online
BUY ONLINE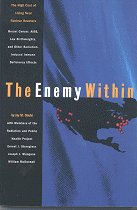 The Enemy Within: The High Cost of Living Near Nuclear Reactors: Breast Cancer, Aids, Low Birthweights, and Other Radiation-Induced Immune Deficiencies by Jay M. Gould (Editor), Ernest J. Sternglass, Joseph J. Mangano.
Editorial Reviews
From Book News, Inc.
Gould, former member of the EPA Science Advisory Board, author, and statistician, uses his talents to analyze data correlating proximity to nuclear reactors and disease. Focusing on breast cancer, premature and underweight births, and immune deficiency syndromes, the author argues that nuclear fallout has contributed to the marked increase in all three conditions, and that such syndromes may be more related to where one lives than individual lifestyle issues. The volume contains numerous statistical tables and graphs. Annotation c. by Book News, Inc., Portland, Or.
What the government doesn't want you to know about Nukes, November 19, 1999
Reviewer: Paul David Tuff ([email protected]) (see more about me) from California
In a followup to his 1991 book _Deadly Deceit_, Gould issues a devestating indictment of the nuclear power industry. Using his irreproachable statistical expertise (in over 30 years, he's never lost a court case in which he's appeared as an expert statistical witness), Gould shows the direct correlation between deadly diseases and living downwind from nuclear reactors. Why does the U.S. government no longer release the data showing the amount of radiation released from Nukes? Because they don't want you to know that Nukes never have been and never will be safe. Instead, they are exposing U.S. citizens to deadly toxins that kill them or make them more susceptible to cancers and autoimmune diseases. For anyone who wants the irrefutable evidence supporting these claims, this is a book you must read.
Chicken Little would agree - Be VERY Worried!!!, August 18, 1999
Reviewer: A reader from Valrico, Florida
I spent good money on this book and several hours reading it. Better I had done anything else. The author claims that very low levels of radiation cause almost anything bad. If it is bad, then radiation caused it. Natural radiation that nature exposes us to all the time? Why no. Every bad thing is caused by radiation from bomb testing and reactors. The author claims that these evil technologies cause a long laundry list of evils.
His statistics could have just as easily shown that the various problems supposed to be caused by radiation in the past 50 years (WW 2 to now) could have been caused by the increased used of home air conditioners, fast food joints, TV dinners or any host of other things that have entered society in the last 50 years.
This book is bogus science. It seems designed to continue our current plague of radiophobia.
A distortion of reality., August 21, 1998
Reviewer: A reader from NY
The author is ignorant of the facts and distorts information in order to convince the reader that they should be living in a lead building to protect themselves from natural radiation. A waste of money.
Classic "Junk Science", July 9, 1998
Reviewer: A reader from Vermont
The author twists scientific data to draw the ludicrous conclusion that simply living within 50-100 miles of a commercial nuclear facility "may" cause the following: AIDS, low birthweight babies, low intelligence, blood poisoning, crime, and violent deaths. It is interesting to note the authors repeated use of the word "may" instead of "are". Irresponsible conclusions based on hyperbolic distortions of data to scare the public into supporting the authors anti-nuclear position, this book is not worth the time to read. Sorry I took the time to read it.
BUY ONLINE!
About Buying Books Online
Didn't find what you are looking for? We've been online since 1996 and have created 1000's of pages. Search below and you may find just what you are looking for.
---
Michael R. Meuser
Data Research & GIS Specialist
MapCruzin.com is an independent firm specializing in GIS project development and data research. We created the first U.S. based interactive toxic chemical facility maps on the internet in 1996 and we have been online ever since. Learn more about us and our services.
Have a project in mind? If you have data, GIS project or custom shapefile needs contact Mike.