REVIEWS - Environmentalism Unbound: Exploring New Pathways for Change by Robert Gottlieb
Fair Use Statement
Purchase Online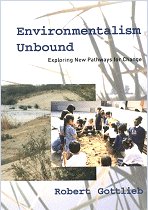 Environmentalism Unbound: Exploring New Pathways for Change by Robert Gottlieb.
Editorial Reviews
Book Description
"Environmentalism Unbound is a powerful reinterpretation of environmentalism and a trenchant critique of established environmental organizations and the environmental justice movement. Filled with historical insight and practical wisdom, the book serves as a road map for revitalizing America's most important social movements, bringing urban issues, industrial development, the hazards of work, and efforts to achieve livable communities to the center of the debate about society's relation to the natural world. A tough, profoundly inspiring, and optimistic book." --Carl Anthony, Urban Habitat Program and the San Francisco Bay Area Alliance for Sustainable Development
In Environmentalism Unbound, Robert Gottlieb proposes a new strategy for social and environmental change that involves reframing and linking the movements for environmental justice and pollution prevention. According to Gottlieb, the environmental movement's narrow conception of environment has isolated it from vital issues of everyday life, such as workplace safety, healthy communities, and food security, that are often viewed separately as industrial, community, or agricultural concerns. This fragmented approach prevents an awareness of how these issues are also environmental issues.
After tracing a history of environmental perspectives on land and resources, city and countryside, and work and industry, Gottlieb focuses on three compelling examples of this new approach to social and environmental change. The first involves a small industry (dry cleaning) and the debate over pollution prevention approaches; the second involves a set of products (janitorial cleaning supplies) that may be hazardous to workers; and the third explores the obstacles and opportunities presented by community or regional approaches to food supply in the face of an increasingly globalized food system.
About the Author
Robert Gottlieb is Henry R. Luce Professor of Urban and Environmental Policy at Occidental College and Director of the Urban and Environmental Policy Institute. He is the editor of the MIT Press Urban and Industrial Environments series.
Purchase Online
About Buying Books Online
Didn't find what you are looking for? We've been online since 1996 and have created 1000's of pages. Search below and you may find just what you are looking for.
---
Michael R. Meuser
Data Research & GIS Specialist
MapCruzin.com is an independent firm specializing in GIS project development and data research. We created the first U.S. based interactive toxic chemical facility maps on the internet in 1996 and we have been online ever since. Learn more about us and our services.
Have a project in mind? If you have data, GIS project or custom shapefile needs contact Mike.