REVIEW - American Foundations: An Investigative History by Mark Dowie.
Fair Use Statement
About Buying Books Online
See Also --> Dowie's Losing Ground
BUY ONLINE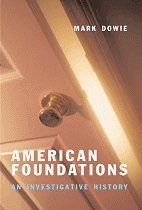 American Foundations: An Investigative History by Mark Dowie.
1890132128 Global Spin : The Corporate Assault on Environmentalism by Sharon Beder Editorial Reviews From Book News, Inc. Examines the way that corporations have used their financial resources and power to counter the gains made by environmentalists, to reshape public opinion, and to persuade politicians against increased environmental regulation. Fourteen chapters describe the methods used, including employing specialized PR firms, artificially created grassroots support for corporate causes, deterring public involvement, industry-funded research, and getting corporate-based "educational" materials into schools. The author concludes that these manipulative spin techniques are actually threatening democracy, and that environmentalists must engage in the task of exposing corporate myths and methods of manipulation. Book News, Inc.®, Portland, OR From Booklist Beder is a professional engineer who heads an environmental education program at the University of Sydney. She is also the author of two books published in Australia, The Nature of Sustainable Development (1993) and Toxic Fish and Sewer Surfing (1989). Rather than focus on direct assaults on the world's environment, Global Spin, which was already published in England last fall, is a well-documented survey of how corporations attempt to influence public opinion and garner political support when it comes to environmental issues. Beder reports on massive advertising and public relations campaigns designed to fight environmental regulations and portray supporters of restrictions as extremists. She shows how conservative think tanks and some so-called grassroots organizations with innocuous-sounding names, such as Coalition for Vehicle Choice or Mothers Opposing Pollution, are funded by companies and industry trade associations, and she uncovers corporate attempts to influence the media with threats to withdraw advertising. Beder is based in Australia, but her examples and her perspective are truly global. David Rouse Reader Reviews Attention Aaron Oakley, September 14, 2000 Reviewer: apple-a (see more about me) from Melbourne Australia Re: Greenpeace. Earlier this year Beder released a second edition of Global Spin in which she asks the question 'Is Greenpeace Selling Out?' This new inclusion, as well as the new section on the Sydney Olympics, adds to Beder's valuable evaluation of the global political, social and economic climate. An excellent read! Was this review helpful to you? 2 of 2 people found the following review helpful: First rate!, July 25, 2000 Reviewer: A reader from Gloucester, Ontario Canada A first rate unmasking of the continuing corporate assault on democracy. The insidious manner in which the PR industry undermines truth and the very conditions necessary for democratic participation reveals these thugs to be the moral equivalents of J. Goebbels. What these parasites won't do for a buck, will freighten and astound you. One wonders how these people can look themselves in the mirror. Especially illustrative is Beder's 9th chapter on Dioxin and the Chlorine Industry's investment in PR. The recent revelations about Big Tabacco only serves to support the authenticity of Beder's work. Was this review helpful to you? 0 of 11 people found the following review helpful: Micheal Warby's Review, February 4, 2000 Reviewer: Aaron Oakley (see more about me) from Perth, Western Australia The following was written by the IPA's Micheal Warby: GlobalSpin: The Corporate Assault on Environmentalism Sharon Beder, ScribePublications, Melbourne, 1997, 288 pages. This is a vile book. It is also a very revealing book. It conveys quite nicely the self-righteous authoritarianism... Was this review helpful to you? 1 of 14 people found the following review helpful: A Green-Left academic's warped view of of the Climate Debate, November 22, 1999 Reviewer: Aaron Oakley (see more about me) from Australia Dr Beder takes the corporations of the world to task for trying to defend themselves against the global warming juggernaut. While in some cases this is justified, the book reveals more about Dr Beder's own ideological blind spots than about the nature of the debate. While maligning corporations, Beder ignores the machinations of groups such as Greenpeace, the Pew Charitable trust and other large, wealthy organisations efforts to hype global warming. Thus, the reader is left with the false impression that the pressure is all in one (the corporate) direction. Greenies will love this book, because it will stroke their prejudices while not revealing what they don't want to hear (ie, the truth about efforts of Greenpeace, etc, to surrepticiously influence the debate).
BUY ONLINE
See Also --> Dowie's Losing Ground
About Buying Books Online
Didn't find what you are looking for? We've been online since 1996 and have created 1000's of pages. Search below and you may find just what you are looking for.
---
Michael R. Meuser
Data Research & GIS Specialist
MapCruzin.com is an independent firm specializing in GIS project development and data research. We created the first U.S. based interactive toxic chemical facility maps on the internet in 1996 and we have been online ever since. Learn more about us and our services.
Have a project in mind? If you have data, GIS project or custom shapefile needs contact Mike.