REVIEW - The Great Transformation: The Policital and Economic Origins of Our Time by Karl Polanyi.
Fair Use Statement
About Buying Books Online
BUY ONLINE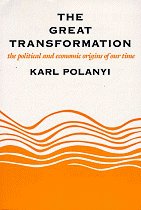 The Great Transformation: The Policital and Economic Origins of Our Time by Karl Polanyi.
Reviews:
Essential reading to understand markets, December 16, 1999
Polanyi discusses the development of markets and their impact on society. He shows that throughout most of history economic activity has been subordinate to control by society.Markets only gained importance at the end of the feudal era in Western Europe.They were promoted by centrally organized intervention, they were not a "natural" development, he says.Polanyi argues that markets destroy society, and a telling example he gives is the cycle of war, boom, and bust that they engender.His solution is for society to regain control over markets, and not let them dominate us.This book is a classic in its field, and explains much of what is happening in economics today.
Masterpiece, June 24, 2000
This is undoubtedly Polanyi's finest work, and an example of the highest quality of scholarship available. This analysis of the rise and influence of "the socially embedded market" is simultaneously lucid and profound; clear and complex; detailed and sweeping. It provides one with a wonderful model for an interdiscipinary approach to the investigation of social phenomena - it is employs political, economic and sociological concepts within a genuinely historical framework to reveal truths about our modern industrial society that no single discipline could fathom. It is, in short, a masterpiece.
Genesis of the Market Order, June 10, 2000
Polanyi's classic is one of the most cogent treatments of the rise of market society ever written, and shows that conceptions of historical dynamics often cover over the fact that it is people who decide how to create the rules of economies, there is nothing inevitable about them. This account shows another picture of nineteenth century economic history leading into the twentieth that revisionist history would often wish to forget. A great and enduring work.
The best explaination for the modern history of mankind, May 8, 1999
Karl Polanyi has provided us with a cut-throat explaination as to how the market system has shaped and formed our person and existance. From the demolition of community to modern business and personal ethics, Polanyi explains who we are, our present Darwinistic purpose, and, not to mention, the price each of us carries with us. Absolutely a must-read for those who truly demand to know what has happened to mankind since the industrial revolution.
Exposes the socially constructed nature of "free markets", August 14, 2000
Polanyi challenges the Neoclassical (specifically Hayekian) assertion that humans started out as individuals , and only later grew into societies. Siding with Durkheim and other holists, Polanyi argues that the concept of a freely contracting economic individual is actually a very recent, and very sociohistorically localized, assertion. Put simply, "free markets" are something consciously made and supported by societies, not an a-priori order nor a state of nature. Polanyi beautifully weaves legal, economic, political, and social history into a cogent thread of argument. One doesn't have to oppose free markets upon accepting Polanyi's argument; one just has to become aware of markets' socially constructed and supported nature.
BUY ONLINE
About Buying Books Online
Didn't find what you are looking for? We've been online since 1996 and have created 1000's of pages. Search below and you may find just what you are looking for.
---
Michael R. Meuser
Data Research & GIS Specialist
MapCruzin.com is an independent firm specializing in GIS project development and data research. We created the first U.S. based interactive toxic chemical facility maps on the internet in 1996 and we have been online ever since. Learn more about us and our services.
Have a project in mind? If you have data, GIS project or custom shapefile needs contact Mike.