REVIEW - The Selling of Free Trade: Nafta, Washington, and the Subversion of American Democracy by John R. MacArthur.
Fair Use Statement
About Buying Books Online
BUY ONLINE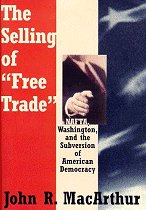 The Selling of Free Trade: Nafta, Washington, and the Subversion of American Democracy by John R. MacArthur.
Editorial Reviews
Business Week, May 8, 2000
"The first book to relate the inside story of the battle over NAFTA in a highly readable style"
From Booklist
MacArthur is the grandson of John D. MacArthur, the billionaire who set up the well-known foundation famous for handing out "genius" grants. In 1980 he persuaded his grandfather's foundation to rescue a struggling Harper's magazine, which was then reorganized as a nonprofit foundation, with the young MacArthur being named publisher in 1983, a position he still holds. His father became wealthy in his own right, setting up the Bradford Exchange, an enterprise that "trades" commemorative collector's plates. MacArthur is the author of Second Front: Censorship and Propaganda in the Gulf War (1992), which was highly critical of the role of the press during the Persian Gulf War. Now he takes on NAFTA and free trade. MacArthur is passionate and vehement in his arguments that NAFTA is vastly unpopular; that passage was bought and paid for by a coalition of Republicans, Democrats, and big business; and that the primary purpose of NAFTA is to provide American companies with access to cheap Mexican labor. David Rouse
Seymour M. Hersh
"...The Selling of 'Free Trade' is a devastating unraveling of yet another Bill Clinton con job...It doesn't get much better."
Book Description
This brilliant expos shows us how Washington works to make something happen, even when confronted with widespread popular opposition. It chronicles the brutal and expensive campaign in 1993 that led to passage of the poorly understood, highly controversial law creating the North American Free Trade Agreement, but its story is urgently up-to-date.
Above all else, NAFTA guaranteed U.S. corporations access to cheap labor in Mexico and protection against expropriation there, but it was presented as a progressive law that would help workers everywhere. John R. MacArthur, investigating the political and public-relations tactics of the Democratic-Republican big-business coalition that favored Gore, Bradley, Clinton, Gephardt, Bush, and the other members of what he calls the bipartisan oligarchy -- defeated the ad hoc groups of working people, skeptics, and mavericks on Capitol Hill who questioned the value of a manifestly unpopular bill. We learn how these oligarchs do their business with the Fortune 500 companies dominating American trade policy and how they have disregarded the workers' and environmentalists' concerns they now purport to care about. How NAFTA was put across -- or put over on us -- is the central story of this book.
The Selling of "Free Trade" begins with the 1999 closing of the famous Swingline stapler plant in Long Island City, New York, and ends with the factory's relocation just south of the border, in Nogales, Mexico, where MacArthur watches President Ernesto Zedillo preside over the ribbon cutting. In between, he talks to the lobbyists, White House aides, congressional staff, and politicians who framed the debate over free trade and the American economy; he investigates the advertising, public-relations, and politicking maneuvers that, with White House help, put NAFTA across as a pure free-trade issue. And he talks to American factory workers who are losing their jobs: about their work and their working conditions, about what the unions have or haven't done for them, about what it's like when they come off their last assembly line and watch their jobs move to Mexico. He attends meetings at an Arizona resort where a U.S. company helps U.S. businesses learn to save millions of dollars by using NAFTA regulations to relocate their factories south of the border. And he interviews Mexican workers about the deplorable wage variables and shocking lack of health, medical, and educational benefits they must endure.
The ongoing decline of American democracy chronicled and predicted by writers as diverse as Joe McGinniss and C. Wright Mills came vividly true, MacArthur shows, when the American people were sold on what they thought was free trade but was actually a subversion of their political system. His book is essential reading for anyone who cares about the future of the American republic.
About the Author
John R. MacArthur, president and publisher of Harper's Magazine since 1983, is an award-winning journalist and author. He is the author of Second Front: Censorship and Propaganda in the Gulf War (Hill and Wang, 1992). He lives in New York City.
Reader Reviews
Comparing the Scorecard on NAFTA to the Promises, October 10, 2000
Reviewer: Donald Wayne Mitchell from a co-author of The Irresistible Growth Enterprise from Boston
We are used to reading the promises about new legislation in bright headlines. What we are less used to is getting the story of how it all turned out. The Selling of "Free Trade" is at its best when it focuses on describing the impact on manufacturing jobs since NAFTA was enacted. The detailing of how the law was passed is also included, and is a typical story of special interests effectively using their resources.
The question of how to evaluate NAFTA economically is a complicated one, and the book's main weakness is that the author has done too simple a job of analysis. However, he should be commended for starting to compile the data.
Essentially, NAFTA has generated lots of jobs in Mexico along the border that pay a little better and provide a little better working conditions than exist in the rural interior of Mexico. There has been no boom in high-paying manufacturing jobs in the United States, and many manufacturing jobs have been lost. The book does a good job of detailing these factors. Ross Perot's promise of a "giant sucking sound" from jobs leaving the United States was closer to the reality we have experienced so far that what anyone else told us.
On the other hand and unmentioned in the book, NAFTA has created an enormous strategic advantage for the U.S. economy by making low-cost, custom manufacturing possible in the United States. Companies like Dell Computer would not be able to use the manufacturing methods they do except for the presence of low-cost component factories along the Mexican border. It is this system of one-of production at low costs that has put such a severe crimp into Japanese and Chinese manufacturing exports in advanced industries. As a result, a lot of manufacturing jobs for the U.S. were probably created or saved that would otherwise have been lost.
The wealth effect of the increased values of American companies from the increased profits is mentioned, but also is not analyzed. The wealth effect also creates and sustains jobs, usually outside of manufacturing.
I suspect that if the analysis were undertaken it would show that NAFTA has been good for developing jobs in the United States in total, even though the head-to-head comparisons on manufacturing jobs belie that conclusion. However, no one can know until the analysis is done.
On the political side, I don't know how I feel about the log-rolling to pass NAFTA until I know whether the legislation was good for the country or not. I know it wasn't too helpful for those who lost their jobs and could not find new ones. But in a time of decreasing unemployment that effect should have been lessened. What happened to those who lost their jobs is also unchronicled by this book, except for a few anecdotes. That would make a great story in and of itself. On the other hand, the additions to the country seem to be enormous in terms of market share gains, profit increases, and a higher value for securities. Also, consumers have probably enjoyed lower prices.
If you like the human interest angle behind a major change like this, you will like Mr. MacArthur's approach. He did a good job of grasping the detail with his story of the Swingline move to Mexico and the political processes involved.
One thing I learned from this book was that true bipartisan support means that there is an enormous amount at stake for some special interest. To do that there has to be enough campaign money delivered to buy support from both major parties. I used to think that such issues were above partisanship. Foolish me!
After you have read and learned from this interesting book, take another issue where the politicians agree and ask yourself what the long-term consequences are for your country. We should all consider those questions first and more carefully than the ones where they disagree. Don't let complacency turn your country into a victim!
Meet the real Al Gore, October 5, 2000
Reviewer: A reader from USA
The Selling of Free Trade is particularly topical given Vice President Gore's recent class warfare rhetoric on the campaign trail, in which he pledges to fight shoulder to shoulder with the proletariate against the evil forces of big business. Anyone foolish enough to believe this pabulum should be assigned this book. John Macarthur makes a convincing case that NAFTA was not enacted through a democratic process of debate and compromise, but through a cynical campaign of misinformation and vote-purchasing.
It is no accident that the two negative reviews of the book are from Canadians, and read more like editorials than book reviews. Contrary to one of these reviews, NAFTA fit neatly into Canada's longstanding policy of beggering its neighbor for manufacturing jobs using a variety of means, including the auto pact of the 1960s which forced the big three to construct Canadian assembly plants, and export cars to the United States. As the United States hemoraged around 400,000 manufacturing jobs over the past two years, Canada gained 400,000 -- an incredible number for a country Canada's size -- as its huge trade surplus with the United States ballooned. These jobs are coutesey of specific, little known NAFTA provisions, like exceptions to the NAFTA rules of origin that permit Canadian tailored clothing manufacturers to pay far lower tariffs on imported cloth than their American competitors. Most tailored clothing production has shifted to Canada. They have also resulted from Canada's policy of maintaining a weak currency, not to mention subsidized health care, and much higher external tariffs. Though Macarthur focuses on Mexico, it is by no means the only beneficiary of NAFTA.
Macarthur demonstrates that the Clinton administration had to have known that NAFTA would cost hundreds of thousands of manufacturing jobs, and decimate traditional Democratic constituencies. But Clinton then, and Al Gore today, depends on the financial support of big business, no less than any Republican, and businesses owe allegience only to shareholders. These linkages are painstakingly disected.
If the NAFTA debate had been conducted honestly, on the merits of lower consumer prices, greater efficiency, and higher corporate profits, it is by no means clear that it would have passed. Nineteen of twenty television factories might not have been moved to Mexico, along with most all small appliance production. General Electric might not now be threatening to cut off suppliers who refuse to move their factories to Mexico, where GE is moving all appliance production. Levi's jean production might not have moved to Mexico. Anyone who denies the giant sucking sound depressing the wages of lower-skilled Americans need only look around. This book is an ominous portent of the Gore administration.
Singing the same old protectionist song, August 15, 2000
Reviewer: Jonathan Kay from Toronto, ON Canada
There are two protectionist camps in the United States. In one is Patrick Buchanan and his doctrine of America First. His populist pitch is simple: Foreigners are taking our jobs. In the other are people such as Harper's publisher John R. MacArthur. As a salon-dwelling member of protectionism's lefty camp, he cares deeply about complex issues such as rainforest preservation and child labour. He has a harder job than Buchanan: When he knocks free trade, he can't limit himself to the dubious proposition that it harms American workers. He has to tackle the even more dubious proposition that it threatens labourers in the developing world as well.
MacArthur's new book, The Selling of 'Free Trade', advances the argument that the American campaign in favour of the North American Free Trade Agreement was a cynical sham. The businessmen who lined up behind Bill Clinton simply wanted a piece of paper to protect their Mexican sweatshops from expropriation. NAFTA was about investment, not trade. And so the five-letter acronym is a lie all by itself.
If you share MacArthur's distrust of globalization, then the bulk of the book -- the detailed back-story of how Clinton and his staff won political support for NAFTA -- will be of great interest. But if you do not, The Selling of 'Free Trade' will be a bore. The nuts and bolts of Washington logrolling are not inherently captivating. A reader who comes at The Selling of 'Free Trade' with a benign view of NAFTA will find the story of what lobbyist met which congressman where and who issued what press release when to be dull and dry.
MacArthur, knowing this, spends roughly a third of his book trying to convince his readers that NAFTA was not only corrupt in conception, but also harmful in effect. He relies mostly on anecdote; and why not? Storytelling is a protectionist's best friend. The benefits of free trade are widely diffused among consumers and manufacturers, while the costs, though smaller, are borne by an identifiable group of failed business owners and laid off employees.
And so, in the very first chapter, MacArthur makes a lunge for our heartstrings by sketching the post-NAFTA shutdown of the Swingline Inc. stapler manufacturing plants in Queens, N.Y. We are told the tale of Gorica Kostrevski, a hard-working Macedonian immigrant who, after 26 years with Swingline, loses her union job as a machine operator when the company moves its operation to Mexico. From there on in, MacArthur tirelessly summons up the image of poor Gorica to lacquer a human-interest veneer onto his political chronology. Later on, MacArthur takes us to the Mexican city of Nogales, home to thousands of American-owned assembly plants (maquiladoras), including Swingline's. Using the city's impoverished townships as his backdrop, he hammers home the point that low wages and a lack of independent labour unions produce a work environment that is "exploitative."
It is not a convincing line of argument. Cheap labour is the one inexhaustible resource that all poor nations can sell the world. Mexico's exports have skyrocketed since NAFTA's implementation. And, as MacArthur himself grudgingly admits, the working conditions and wages available at maquiladoras are better than those available in Mexico's homegrown industries. If maquiladoras paid a U.S.-scale union wage, or were required to provide American-style fringe benefits, every one of them would close. Forty-hour work weeks and ergonomic counsellors are luxuries the developing world cannot afford. And if MacArthur actually lived in a Nogales shantytown -- rather than merely driving through one to collect anti-maquiladora sob stories -- I rather doubt he would mind being "exploited" by an American employer. The "exploitative" tag only makes sense when MacArthur applies as his benchmark the rights of America's unionized workforce -- a workforce that, thanks to education and capital investment, is many times more productive per capita than Mexico's.
On this latter point, the distinction between Pat Buchanan and John MacArthur -- between the leftist and rightist strains of protectionism -- starts to blur. Both venerate Joe Union and see any threat to his livelihood as a sort of conspiracy. It is just that Buchanan sees it as a conspiracy against nation and MacArthur sees it as a conspiracy against class. But, at least Buchanan spares us the argument that he is protecting the interests of the world's huddled masses. MacArthur, with his sanctimonious play on the idea of "exploitation," does not.
The Selling of 'Free Trade' carries the mark of a dying breed. Few on the left can look at South Korea, Ireland and Indonesia and maintain with a straight face that globalization constitutes an exploitative plot hatched by Nike and McDonald's. While Harper's is still full of anti-globalization screeds (a recent issue contained an affectionate profile of the anti-corporate rabble that descended on Seattle in November), other leftist vehicles -- such as The New Republic and The New York Times -- are conceding the obvious. It is only a matter of time, I suspect, before John MacArthur does the same.
And one more thing: When I finished The Selling of 'Free Trade', just for fun, I phoned Gorica Kostrevski at her home in Whitestone, N.Y. (there is only one Kostrevski listed for all New York state). I asked her what happened after she got laid off from Swingline. "I get new job quick in Manhattan. I do maintenance now," she told me in her thick Macedonian accent. "More money?" I asked. "Yes, more money," she said, "I am good worker!"
The death of Franklin Roosevelt's Democratic party, May 22, 2000
Reviewer: Frank J. Walter from New York
The author of this book clearly shows that NAFTA is not about "free trade," but is in fact an investment agreement designed to protect American multi-national corporations that relocate to Mexico for "cheap labor". Mexico has a GNP about 4% of the U.S. GNP; the only people in Mexico who are able to buy American goods are either in the durg trade or the Mexican government elite. The author tells a story of discarded American workers (Swingline Staplers, Long Island City) who loose their plant and jobs to their Mexican brothers and sisters in the great "cheap labor" camps of the Maquiladora Program.
But this is also the terrible story of how Bill Clinton and Co. finished off the party of FDR, and made it the party of "cheap labor" sold to corporate interests for campaign contributions. As I read the book I kept thinking that maybe it's time for the American labor movement to run a candidate for President (Bonier?) and demand a North American Free Labor Agreement that will protect American workers, Mexican workers-and all workers everywhere. And I think such a movement would likely attract many on the American right, who are very anti-authoritarian, and deeply distrustful of what Mussolini called "corporatism"-which is what Mussolini said fascism was all about.
Great, thought provoking book. Bravo.
BUY ONLINE
About Buying Books Online
Didn't find what you are looking for? We've been online since 1996 and have created 1000's of pages. Search below and you may find just what you are looking for.
---
Michael R. Meuser
Data Research & GIS Specialist
MapCruzin.com is an independent firm specializing in GIS project development and data research. We created the first U.S. based interactive toxic chemical facility maps on the internet in 1996 and we have been online ever since. Learn more about us and our services.
Have a project in mind? If you have data, GIS project or custom shapefile needs contact Mike.