REVIEW - The Coming Plague: Newly Emerging Diseases in a World Out of Balance by Laurie Garrett.
Fair Use Statement
About Buying Books Online
Purchase Online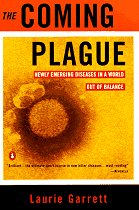 The Coming Plague: Newly Emerging Diseases in a World Out of Balance by Laurie Garrett.
From Booklist
This might have been a sensation-seeking book that stirs things up briefly, then quickly disappears, but Garrett has studied the scientific and popular literature, interviewed many knowledgeable individuals, and constructed a cogent, well-documented, far-reaching argument. The main points of that argument include the fact that careless use of antibiotics has led to the growth of drug-resistant strains and species of microbes, the fact that microbial mutations are not necessarily random events, and the facts of the influences of urbanization and increasing military expenditures on public health. Further, she cites the roles of global warming, pollution of oceans, and shortsighted politicians in helping spread disease. She makes all her points about those phenomena through compelling, detailed epidemiological examples. The major injunction arising from her argument is that, because humanity is sitting on a powder keg of disease, every country must provide adequate funds or cooperative support for the fieldwork and research aspects of public health and preventive medicine. If they do not, Homo sapiens will become an endangered species. William Beatty --This text refers to an out of print or unavailable edition of this title.
From Kirkus Reviews , August 1, 1994
Garrett, Newsday and former National Public Radio reporter, has written an excellent encyclopedic history--and jeremiad--of man versus microbe in the last decades of the century. ``California School Becomes Notorious for Epidemic of TB.'' ``In a Panic, Rwandans Die in Stampede.'' No book about to be launched in 1994 could ask for better confirmation of its somber thesis than the front-page headlines in a recent edition of the New York Times. Only a few years ago science was celebrating an end to plagues and an extended life span, but now it appears that we are losing the battle against infectious illness. Microbes mutate as fast as companies synthesize new drugs to combat them. Jet travel, the sexual revolution, and overpopulation are just a few of the whole-earth changes that favor the survival of old and new bugs. In chapter by chilling chapter, Garrett recounts the stories of deaths from Machupo, Lassa, and Ebola diseases--viral infections decimating small villages in South America and Africa. In the best tradition of Berton Rouech', each account is a dramatic narrative with heroes and heroines: the doctors and epidemiologists who round up the usual suspects (rats, mice, bugs) to come up with answers. Modernity brings ironic twists--reused syringes, recycled air conditioning--to amplify infection. But the ultimate compounding factor is a ``Thirdworldization,'' an ugly coinage to describe an ugly situation in which the inhabitants of poor nations are malnourished, displaced, terrorized, demoralized, e.g., Rwanda. Garrett chronicles AIDS, the spread of antibiotic-resistant TB and malaria, Legionnaire's disease, last year's re-emergence of Hanta viruses among the Navajo, along with chapters on microbial genetics and resistance. Prejudice and politics are given their due from clearly liberal Garrett, and a glimmer of a solution comes in the form of eternal vigilance and surveillance. One does not like to apply the phrase too often in a book review, but here is a volume that should be required reading for policy makers and health professionals. (Author tour) -- Copyright ©1994, Kirkus Associates, LP. All rights reserved. --This text refers to an out of print or unavailable edition of this title.
From Book News, Inc. , March 1, 1995
Based on international field research and extensive interviews with experts in virology, molecular biology, disease ecology and medicine, Garrett (health and science writer and former science correspondent for National Public Radio) investigates newly identified viruses such as HIV, HIV-II and the mysterious Ebola; old viruses in new locations, such as hantavirus and dengue; and mutant strains of old diseases<-;- >and examines the relationship between the spread of disease, sociology, politics and science. Annotation copyright Book News, Inc. Portland, Or. --This text refers to an out of print or unavailable edition of this title.
Synopsis
A critically acclaimed study documents the outbreaks of newly discovered diseases around the globe, such as HIV, Lassa, and Ebola, and explores the social and environmental deterioration that helps to keep such viruses alive. Reprint. Tour. NYT.
Purchase Online
About Buying Books Online
Didn't find what you are looking for? We've been online since 1996 and have created 1000's of pages. Search below and you may find just what you are looking for.
---
Michael R. Meuser
Data Research & GIS Specialist
MapCruzin.com is an independent firm specializing in GIS project development and data research. We created the first U.S. based interactive toxic chemical facility maps on the internet in 1996 and we have been online ever since. Learn more about us and our services.
Have a project in mind? If you have data, GIS project or custom shapefile needs contact Mike.