REVIEW - Upside Down: A Primer for the Looking-Glass World by Eduardo H. Galeano.
Fair Use Statement
About Buying Books Online
Purchase Online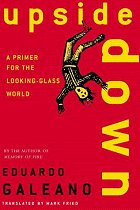 Upside Down: A Primer for the Looking-Glass World by Eduardo H. Galeano.
Editorial Reviews
Los Angeles Times, front page
"Galeano's outrage is tempered by intelligence, an ineradicable sense of humor, and hope."
From Kirkus Reviews
Galeano (The Memory of Fire Trilogy, etc.) has set to paper an astonishingly straight-faced indictment of yanqui capitalism that-for all its freshness and wit-could well have been freeze-dried at about the time of Che Guevara's assassination.The author views the world as essentially a matter of conflict between North and South, rich and poor, First World and Third World, big business and the small guy, and man against nature. Big business pollutes the Third World, uses their cheap labor, and sells them Big Macs, unleashing its power (and power is everything to Galeano) on the poor and voiceless. Galeano sees the US as heavy-handed and heavily armed-using its might to quell any uprising it doesn't like and to impose any government it prefers. The North he holds responsible for most social injustices-"free trade" being his euphemism for the slave trade. He also believes that whites were responsible for the annihilation of Jews, Gypsies, blacks, and gays during the Holocaust. Hitler, he points out, sterilized Gypsies-not very different, he believes, from the sterilizations performed in America during the 1930s on criminals, blacks, and alcoholics. Yet Americans, he believes, feel inexplicably superior. Blacks have been treated poorly in both the northern and southern hemispheres; dark-skinned black or Indian Brazilians form an underclass, rarely seen in the media or at universities. The author writes of the Argentine death squads, and he sees drug trafficking as a plot of the banks and gun manufacturers: "An illegal industry of death thus serves the legal industry of death." Galeano brings an almost Manichean dualism to his disquisitions on stock markets, capitalism, unemployment, nuclear arms--and much, much more.Old-time agitprop from south of the border -- Copyright © 2000 Kirkus Associates, LP. All rights reserved.
Book Description
Eduardo Galeano, author of the incomparable Memory of Fire trilogy, combines a novelist's intensity, a poet's lyricism, a journalist's fearlessness, and the strong judgments of an engaged historian. Now his talents are richly displayed in Upside Down, an eloquent, passionate, sometimes hilarious expos of our first-world privileges and assumptions. In a series of lesson plans and a "program of study" about our beleaguered planet, Galeano takes the reader on a wild trip through the global looking glass. From a master class in "The Impunity of Power" to a seminar on "The Sacred Car"-with tips along the way on "How to Resist Useless Vices" and a declaration of "The Right to Rave"-he surveys a world unevenly divided between abundance and deprivation, carnival and torture, power and helplessness. We have accepted a reality we should reject, Galeano teaches us, one where machines are more precious than humans, people are hungry, poverty kills, and children toil from dark to dark.
A work of fire and charm, Upside Down makes us see the world anew and even glimpse how it might be set right.
About the Author
Eduardo Galeano, one of Latin America's most distinguished writers, journalists, and historians, is the author of the Memory of Fire trilogy (winner of the 1989 American Book Award), Open Veins of Latin America, and many other works. He lives in Montevideo, Uruguay.
Purchase Online
About Buying Books Online
Didn't find what you are looking for? We've been online since 1996 and have created 1000's of pages. Search below and you may find just what you are looking for.
---
Michael R. Meuser
Data Research & GIS Specialist
MapCruzin.com is an independent firm specializing in GIS project development and data research. We created the first U.S. based interactive toxic chemical facility maps on the internet in 1996 and we have been online ever since. Learn more about us and our services.
Have a project in mind? If you have data, GIS project or custom shapefile needs contact Mike.