Arctic National Wildlife Refuge (ANWR)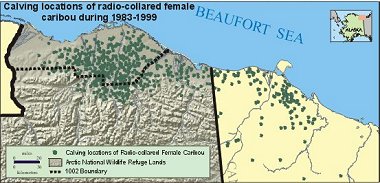 The push is on once again to drill ANWR (Arctic National Wildlife Refuge). Similar to 911 and the window it opened for military spending and the war in Iraq and curtailment of our right-to-know, the supposed oil shortage and the campaign of fear spawned by 911 has opened a new window of opportunity to drilling ANWR.

Anwr.org - "jobs and energy for America" - is one of the most obvious websites in this new surge to drill the Arctic National Wildlife Refuge. They claim they have the support of the local Native population, but this is just not true. Take a look at the video, Oil on Ice, and you'll see that this is a fabrication. A 4 minute version of the film is available for free here.

Fox news, of course, if pushing the drilling in the media. Fox's mythical "myth busting" is Bush's most powerful media hack attack pushing the new surge to drill - Bush's last push to payoff his oil buddies before his present term expires.

On the other hand, the The Ventura County Star offers a much more even handed and intelligent view and a refreshing counter to the myths that Fox news is sprea ding around the globe.

Time magazine is also one of those not buying the ANWR rhetoric. Check their 2001 article, "Some Shaky Figures" for an excellent discussion about how the facts have been misrepresented. One in particular is the erroneous claim that 700,000 jobs would be created if ANWR is drilled!

In 2001, Ian Thomas, an employee of the U.S. Fish and Wildlife Service was fired for publishing maps showing Caribou calving sites within ANWR. He contacted me and I was able to download the maps and the entire website before FWS deleted them from the internet forever. The censored maps the FWS doesn't want you to see may be viewed here. Click here for the entire censored and removed 2001 FWS website.
---

As of 12/07/01 the U.S. Fish & Wildlife Service (FWS) took their Arctic National Wildlife Refuge (ANWR) website offline. Once it was "sanitized" by the Bush administration, it was put back online for a brief period. The original website was very critical of any oil exploration, drilling or recovery in the ANWR. Their most recent version of this website tells a very different story as you will see. Below is one of the maps from the old ANWR website that shows that much of the Caribou calving area is at high risk.

Click here for our archived copy of the original FWS ANWR website and click here for the new FWS ANWR website. Also, check here for FWS's pro-oil take.
ACT NOW! Watch the video Oil On Ice and visit oilonice.org to find out what you can do to help prevent the opening of ANWR to oil drilling.
Didn't find what you are looking for? We've been online since 1996 and have created 1000's of pages. Search below and you may find just what you are looking for.
---
Michael R. Meuser
Data Research & GIS Specialist
MapCruzin.com is an independent firm specializing in GIS project development and data research. We created the first U.S. based interactive toxic chemical facility maps on the internet in 1996 and we have been online ever since. Learn more about us and our services.
Have a project in mind? If you have data, GIS project or custom shapefile needs contact Mike.