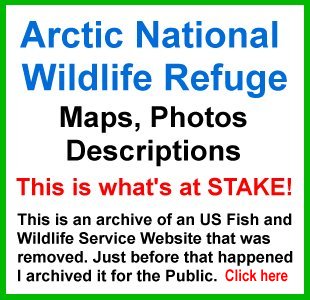 GIS Shapefile Store - for Beginners & Experienced GIS Users Alike. Geographic Names Information System, Nuclear Facilities, Zip Code Boundaries, School Districts, Indian & Federal Lands, Climate Change, Tornadoes, Dams - Create digital GIS maps in minutes.

Follow on Twitter
Didn't find what you are looking for? Email me and I'll find it for you.
Progressive Links
Federation of American Scientists
Physicians for Social Responsibility
Public Employees for Environmental Responsibility
MapCruzin Consulting
Data Research and GIS Specialists.

Refuge Information | Wildlife | Habitat | People
Home | New | Feedback | Index | Search
Why we archived the ANWR website at MapCruzin.com
Cats
[This information was originally produced by Beverly Skinner, wildlife biologist at Innoko National Wildlife Refuge (in west central Alaska), for radio broadcast on Public Radio stations throughout Alaska.]

I recently attended the yearly meeting of Alaska Boreal Partners in Flight - an organization of federal, state and private organizations working together for the conservation of neo-tropical birds who breed in Alaska. One issue we discussed was cats. So what do cats and birds have in common? Unfortunately a lot.

Our domestic cats originally came from a wild cat species - the European and African Wild Cat. Along with their looks, domestic cats kept many of their wild ancestors behaviors such as hunting. Unlike the wild native cats who quit hunting when full, a domesticated cat's desire to hunt is not suppressed when they are fed regularly by people. Even when full, a domestic cat will continue hunting and killing. Cats were first domesticated by the Egyptians who whorshiped them as goddesses. The Romans eventually introduced the domestic cat to Britain by 300 AD and they ended up in the United States several hundred years ago when European colonists brought them along by ship.

It is estimated there are over 66 million pet cats in the United States and approximately 40 million of these cats spend part or all of their time outdoors. There are an additional 40 to 60 million stray and feral cats living in the United States with each female stray cat averaging 3 litters of kittens a year. What this amounts to is somewhere around 100 million cats hunting for small mammals and birds to eat every day of the year. Although small mammals make up about 70 percent of their diet, it is estimated that our pet and feral cats are killing hundreds of millions of birds each year. Cats also compete with native predators such as hawks and weasels and may also transmit new diseases such as feline leukemia to wild animals.

What can you personally do about this problem? The most effective solution is, if at all possible, keep your cat indoors. Confinement will eliminate unwanted kittens, predation on wild animals including birds, plus the spread of disease to local wildlife. Bells around a cat's neck don't work. Most cats are effective enough predators that by the time a bell jingles, it is too late for the cat's chosen prey to escape. You can also neuter your cat, locate bird feeders in sites that do not provide cover for cats to wait in ambush, and put animal guards around any trees in your yard that has nesting birds.

For Alaska Naturally and the Innoko National Wildlife Refuge, this is Beverly Skinner. The problem of cat predation on wild animals including birds is not limited to just the United States. Worldwide, cats have been involved in the extinction of more bird species than any other cause except habitat destruction. In New Zealand alone cats are responsible for the total extinction of 8 species and have wiped out the country's populations of over 40 other species. Domestic cats and Wildlife - definitely a problem we need to work on more.
Refuge Information | Wildlife | Habitat | People
Home | New | Feedback | Index | Search
Text and graphics by USFWS staff
Last modified 28 July 2000
Why we archived the ANWR website at Mapcruzin.com

Note: This is the MapCruzin.com archive of the FWS Arctic National Wildlife Refuge website. In December, 2001 FWS took this website offline, making it unavailable to the public. It includes 90 plus pages of information and many maps. As of 2006 the important information contained in this, the original "unsanitized" version of the FWS website, has yet to return to the internet, so we will continue to maintain it here as a permanent archive to help inform activists and concerned citizens. If you find any broken links, please report them to me at [email protected] and I will attempt to make the repairs. January, 2008 update - A small part of the original information that was present in 2001 has made it back into the current ANWR website. There is also an archive that contains a small amount of the original information, but it is not readily available from the main website.

Click here to visit our homepage. Click here for NRDC's message about ANWR from Robert Redford.

For more information on why this website was "pulled," Check here. And, you can also view the maps of caribou calving areas that the FWS did not want you to see here.

January 29, 2008: Visit Our New ANWR News for Updates
---
This page should be cited as follows:
U.S. Fish and Wildlife Service. 2001. Potential impacts of proposed oil and gas
development on the Arctic Refuge's coastal plain: Historical overview and
issues of concern. Web page of the Arctic National Wildlife Refuge,
Fairbanks, Alaska. 17 January 2001. http://arctic.fws.gov/issues1.html
---
Archived by MapCruzin.com. Visit us at mapcruzin.com.
MapCruzin.com is an independent firm specializing in the publication of educational and research resources. We created the first U.S. based interactive toxic chemical facility maps on the internet in 1996 and we have been online ever since. Learn more about us and view some of our projects and services.