Caliper Releases Maptitude 2012: Easy to Use, Affordable and Includes New Geodata
Why We Use Maptitude at MapCruzin.com
Maptitude 2012: New Features Overview
This next generation of Maptitude, the award winning GIS desktop software, continues to provide easy-to-use yet powerful mapping tools. Maptitude 2012 remains the most competitively priced, full-featured GIS/mapping software available.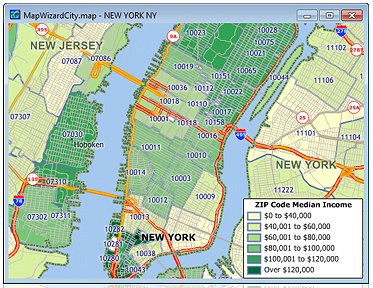 Sponsors
New Data
New U.S. data sets provide access to up-to-date geographic information. Maptitude now includes an October 2011 NAVTEQ® map, allowing accurate address locating and street visualization, plus robust data on which to calculate shortest paths, network bands, and network partitions.
Other 2011 U.S. layers from NAVTEQ® include building footprints for many urban locations, highways, railroads, and landmarks. The Points of Interest layer contains over 2 million named locations that range from public facilities to commercial buildings including shops, restaurants, and retail stores.
Maptitude also ships with the October 2011 ZIP Code® updates ensuring that you are using the latest data. The 5-digit ZIP Code boundaries are a nationwide area database with ZIP Codes for all 50 states, the District of Columbia, Puerto Rico, and the territories. There is an updated point database of ZIP Code centroids for the entire country and 3-digit ZIP Code areas. The ZIP Code area layers now extend into non-deliverable areas, providing complete coverage of the continental U.S.
All of the US Census boundaries (e.g., tracts, counties, county subdivisions) that are included with Maptitude, plus 3- and 5-digit ZIP Code areas, contain several demographic profiles based on the data reported in the 2010 Census and the 2009 American Community Survey.
Network Analysis and Routing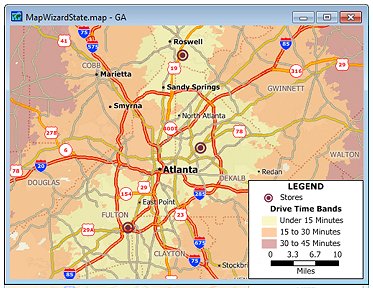 There is a new shortest path toolbox with several enhancements:
Continuous live routing gives you instant feedback on the shortest or fastest routes as you drag the mouse over the map
A new option to maximize the use of highways allows for faster routing over large geographic areas
Formatted html (xml) directions can be created for any route with reduced "unknowns" in directions
Unrestricted routing allows for nationwide routing on an unlimited number of stops
The Network Bands toolbox has new options for creating bands from a point layer or by simply clicking origins on the map. Network bands have further been enhanced for greater accuracy.
Plus improvements in Styles and Display, Labelling, GeoTagging...more.
Affordable Pricing
Maptitude Version 2012 Single User License $695
Upgrade from Maptitude 5.0 and up $395
Why We Use Maptitude at MapCruzin.com
BTW if you order Maptitude 6.0 let them know that you heard about it at MapCruzin.com. We don't get a commission or anything like that, but we would like them to know that we support their work and products.
Sponsors
Didn't find what you are looking for? We've been online since 1996 and have created 1000's of pages. Search below and you may find just what you are looking for.
---
Michael R. Meuser
Data Research & GIS Specialist
MapCruzin.com is an independent firm specializing in GIS project development and data research. We created the first U.S. based interactive toxic chemical facility maps on the internet in 1996 and we have been online ever since. Learn more about us and our services.
Have a project in mind? If you have data, GIS project or custom shapefile needs contact Mike.