National Interagency Airspace Information Maps
Sponsors

<-- Fire Weather Wildfire Risk Maps
<-- Free Geography Maps
<-- Free U.S. State Shapefiles
<-- Free World Country Maps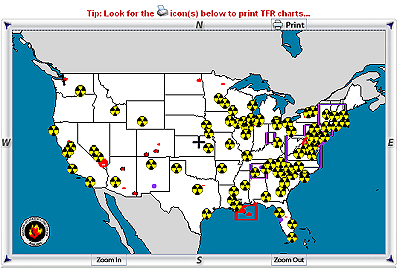 National Interagency Airspace Restricted Airspace Information Maps
Welcome to the National Interagency Airspace Information website. The Bureau of Land Management provides current and interactive aviation charts displaying complete graphic and textual Temporary Flight Restriction (TFR) information to help pilots plan and execute safe flight operations.
Although the pilot must officially use the TFR text as issued from the FAA, many times the text is difficult to understand and even more difficult to visualize the extent of the airspace restriction. BLM encourages pilots to use this site to obtain accurate graphical and textual TFR information to avoid inadvertent flight into airspace restricted by TFRs, especially the airspace in which significant low level fire fighting operations are being conducted.
This site operates 24/7. TFR text is updated every 12 minutes and TFR graphic displays are updated within 30 minutes of issue during business hours (Monday - Friday, 0700-1600 Mountain Time) and twice daily (0700 and 1300 Mountain Time) on weekends and holidays.
The map is interactive - zoom in or out, pan East, West, North, or South, or toggle on/off various information layers such as airports, navaids, etc. The TFR can be viewed on a sectional, WAC, or GNC. If no chart coverage is available, the TFR is viewed on an outline type Vector Chart. Laser and current TFRs on a GNC are marked with a label containing summary information including TFR number, altitude, frequency and name (if specified in the TFR), and center lat/long.
Visit the National Interagency Airspace Information website
<-- Fire Weather Wildfire Risk Maps
<-- Free Geography Maps
<-- Free U.S. State Shapefiles
<-- Free World Country Maps
Didn't find what you are looking for? We've been online since 1996 and have created 1000's of pages. Search below and you may find just what you are looking for.
---
Michael R. Meuser
Data Research & GIS Specialist
MapCruzin.com is an independent firm specializing in GIS project development and data research. We created the first U.S. based interactive toxic chemical facility maps on the internet in 1996 and we have been online ever since. Learn more about us and our services.
Have a project in mind? If you have data, GIS project or custom shapefile needs contact Mike.
Sponsors