Research: Right-to-Know or Left-to-Wonder
RTK News - RTK Resources - Lost and Found
GIS Shapefile Store - for Beginners & Experienced GIS Users Alike. Geographic Names Information System, Nuclear Facilities, Zip Code Boundaries, School Districts, Indian & Federal Lands, Climate Change, Tornadoes, Dams - Create digital GIS maps in minutes.

Follow on Twitter
A Member of the
Reimagination Network
Didn't find what you are looking for? Email me and I'll find it for you.
Progressive Links
Federation of American Scientists
Physicians for Social Responsibility
Public Employees for Environmental Responsibility
Have a question or comment? Post them at the MapCruzin Blog.
MapCruzin Consulting
GIS and Google Maps Development, Website Creation and Hosting, Fast and Affordable.
National Weather Service Fire Weather Interactive Maps
Sponsors

<-- Fire Weather Wildfire Risk Maps
<-- Free Geography Maps
<-- Free U.S. State Shapefiles
<-- Free World Country Maps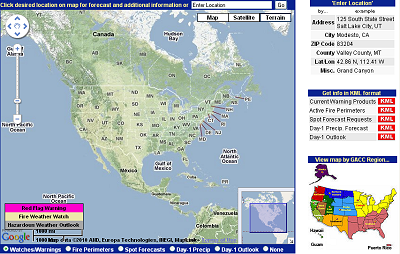 National Weather Service Fire Weather Interactive Maps
The server hosting the previous National Fire Weather Web Site is no longer functioning, and will not be replaced. This site will now serve as the new official National Weather Web Page.
The ability of the NWS to provide digital and graphic fire weather products and services over the internet continues to increase. Concurrently, the need for improved fire weather information on the internet by land management and fire suppression agencies also continues to increase.
Multiple federal fire weather user agencies have expressed a need for an improved national fire weather web page that includes more interactive graphics. OS/22 Fire and Public Weather Branch will test a new, highly interactive national fire weather web page from October 2, 2009 to March 1, 2010. Because existing fire weather information is bundled and/or presented in new formats, the national fire weather web page is considered a new experimental service.
A key component to the new national fire weather page is its interactive map that allows you to examine critical fire weather information at the national level initially, but quickly provide you access to local and regional fire weather data as well.
Sponsors
On the interactive map, move to any location (zoom in/out, drag mouse, etc.) and left click on your point of interest. A bubble will appear at that point and give you access to a wide variety of information relevant to that data point. Information includes the fire weather forecast, a 7-Day point forecast, hourly weather graph, and digital/tabular weather information. If any fire weather watches, red flag warnings, or hazardous weather outlooks have been issued, links to this critical information appear in the bubble. In addition, you can view the fire weather page and activity planner from the local National Weather Service (NWS) office responsible for that particular point. Farsite data is also available along with the ability to examine MesoWest observations within a 50 mile radius of that point. You can also submit a spot forecast to the local NWS office for the point you have selected.
Visit the National Weather Service Fire Weather website
<-- Fire Weather Wildfire Risk Maps
<-- Free Geography Maps
<-- Free U.S. State Shapefiles
<-- Free World Country Maps
Didn't find what you are looking for? We've been online since 1996 and have created 1000's of pages. Search below and you may find just what you are looking for.
---
MapCruzin.com is an independent firm specializing in the publication of educational and research resources. We created the first U.S. based interactive toxic chemical facility maps on the internet in 1996 and we have been online ever since. Learn more about us and view some of our projects and services.
If you have data, GIS project or custom shapefile needs send me an email.
Sponsors