Research: Right-to-Know or Left-to-Wonder
RTK News - RTK Resources - Lost and Found
GIS Shapefile Store - for Beginners & Experienced GIS Users Alike. Geographic Names Information System, Nuclear Facilities, Zip Code Boundaries, School Districts, Indian & Federal Lands, Climate Change, Tornadoes, Dams - Create digital GIS maps in minutes.

Follow on Twitter
A Member of the
Reimagination Network
Didn't find what you are looking for? Email me and I'll find it for you.
Progressive Links
Federation of American Scientists
Physicians for Social Responsibility
Public Employees for Environmental Responsibility
Have a question or comment? Post them at the MapCruzin Blog.
MapCruzin Consulting
GIS and Google Maps Development, Website Creation and Hosting, Fast and Affordable.
Northwest Interagency Coordination Center Maps
Sponsors

<-- Fire Weather Wildfire Risk Maps
<-- Free Geography Maps
<-- Free U.S. State Shapefiles
<-- Free World Country Maps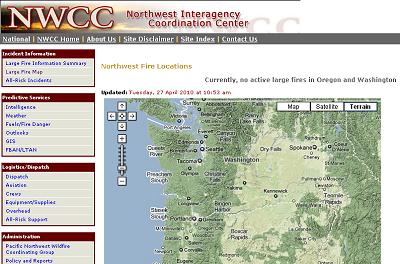 The Northwest Interagency Coordination Center serves as the northwest area geographic focal point to provide logistical support and intelligence relative to anticipated and ongoing wildfire activity for all federal and cooperating state wildland fire suppression agencies. The Center facilitates movement of resources between agencies' units and, concurrently, ensures fire suppression capabilities to support large fire potential by monitoring weather and prescribed burning activity within the area. The Center also responds to requests for support to other geographic areas from the National Interagency Coordination Center at the National Interagency Fire Center.
Sponsors
Though the Center was primarily established to support wildland fire suppression efforts, it also plays a significant role in providing logistical support to the needs of other natural disasters such as earthquakes, floods, volcano eruptions, etc. The Center is the focal point in the Northwest for area level support to Emergency Support Function #4 in a Federal Emergency Management Agency (FEMA) declared disaster. In addition, the Center supports the general fire community through training, workshops and response to projects or tasks assigned by the Pacific Northwest Wildfire Coordination Group (Pacific Northwest Wildfire Coordinating Group) or others.
Visit the Northwest Interagency Coordination Center website
<-- Fire Weather Wildfire Risk Maps
<-- Free Geography Maps
<-- Free U.S. State Shapefiles
<-- Free World Country Maps
Didn't find what you are looking for? We've been online since 1996 and have created 1000's of pages. Search below and you may find just what you are looking for.
---
MapCruzin.com is an independent firm specializing in the publication of educational and research resources. We created the first U.S. based interactive toxic chemical facility maps on the internet in 1996 and we have been online ever since. Learn more about us and view some of our projects and services.
If you have data, GIS project or custom shapefile needs send me an email.
Sponsors