Map of Israeli Settlements on West Bank and Gaza
Sponsors

<-- Free Geography Maps
<-- Free U.S. State Shapefiles
<-- Free World Country Maps
<-- Israeli Settlements

See Also: Maps of Israel, Maps of West Bank, Jerusalem and Gaza, Middle East Maps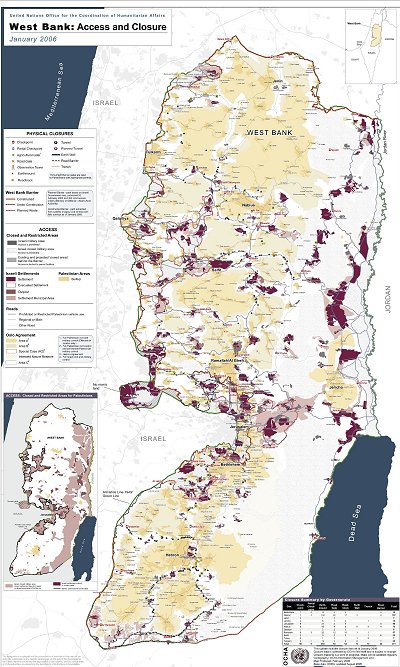 Detailed map of Israeli settlements on the West Bank, January 2006. Produced by the United Nations Office for the Coordination of Humanitarian Affairs - public UN source. Map Centre:
Israeli settlements are Jewish only settlements" built by the Israel on occupied and confiscated land that is occupied through wars (such as the Six-Day War) and forceful evacuation of the indigenous people from their homes in Palestinian West Bank. Such settlements currently exist in the West Bank, East Jerusalem and the Golan Heights. The latter two areas are governed under Israeli civil law but all three territories are considered to be under military occupation by the international community.
As of July 2009, approximately 304,569 Israelis live in the 121 officially-recognised settlements in the West Bank, a further 192,000 Israelis live in settlements in East Jerusalem and over 20,000 live in settlements in the Golan Heights. Settlements range in their character from farming communities to suburbs to frontier villages, and, in the case of East Jerusalem, city neighborhoods. The three largest settlements, Modi'in Illit, Maale Adumim and Betar Illit, are cities with over 30,000 residents each.
This image is a map derived from products of the United Nations Cartographic Section. Modified versions of UNCS maps may be used provided that the UN name and reference number does not appear on any modified version and a link to the original map is provided. Modified UN maps are to be considered in the public domain. This applies worldwide.
The UN maps is an open source material. You can use them to make your own maps. You do not need our permission for that. Please be advised that the UN name and reference number should not appear on any modified map. The UN map is a UN document and cannot be modified. You can say something like "Based on UN map number..." -- Vladimir Bessarabov (UNCS Cartographer), 13 April 05
Sponsors
Source: wikipedia
See Also: Maps of Israel, Maps of West Bank, Jerusalem and Gaza, Middle East Maps
<-- Free Geography Maps
<-- Free U.S. State Shapefiles
<-- Free World Country Maps
<-- Israeli Settlements
Didn't find what you are looking for? We've been online since 1996 and have created 1000's of pages. Search below and you may find just what you are looking for.
---
Michael R. Meuser
Data Research & GIS Specialist
MapCruzin.com is an independent firm specializing in GIS project development and data research. We created the first U.S. based interactive toxic chemical facility maps on the internet in 1996 and we have been online ever since. Learn more about us and our services.
Have a project in mind? If you have data, GIS project or custom shapefile needs contact Mike.