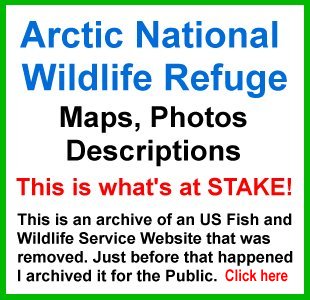 GIS Shapefile Store - for Beginners & Experienced GIS Users Alike. Geographic Names Information System, Nuclear Facilities, Zip Code Boundaries, School Districts, Indian & Federal Lands, Climate Change, Tornadoes, Dams - Create digital GIS maps in minutes.

Follow on Twitter
Didn't find what you are looking for? Email me and I'll find it for you.
Progressive Links
Federation of American Scientists
Physicians for Social Responsibility
Public Employees for Environmental Responsibility
MapCruzin Consulting
Data Research and GIS Specialists.
NRDC: 120 Million Americans at Risk to Fukushima-Like Nuclear Accident
Sponsors

According to CommonDreams.org NRDC has released a new interactive map showing the 65 nuclear power plants that have 104 operating nuclear power reactors in the U.S. NRDC says that 120 million Americans are at risk of nuclear radiation fallout.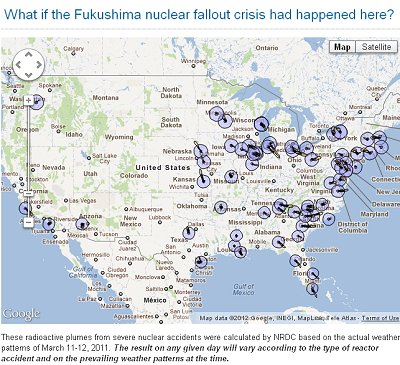 From CommonDreams.org:
Sponsors
"There are clear lessons learned from the Fukushima disaster, yet our government allows the risks to remain," said NRDC Scientist Jordan Weaver, PhD. "It doesn't have to take an earthquake and a tsunami to trigger a severe nuclear meltdown. In addition to human error and hostile acts, more common occurrences like hurricanes, tornadoes and flooding – all of which took place around the country last year – could cause the same type of power failure in U.S. plants."
23 of these are G.E. BWR Mark I nuclear reactors similar to those that failed at Fukushima. You can view a maps showing these 23 nuclear power reactors and tornado incidence.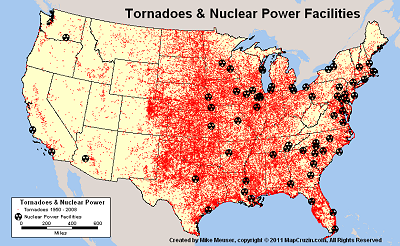 We provide tornado GIS shapefiles here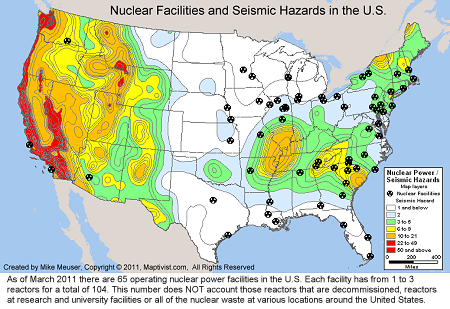 You may download a GIS shapefile that includes all 104 nuclear power reactors at the 65 U.S. nuclear power plants. I have also prepared GIS shapefiles indicating historical earthquakes and seismic hazards - you can download these for free. You may also download maps in TIF, PNG and PDF formats.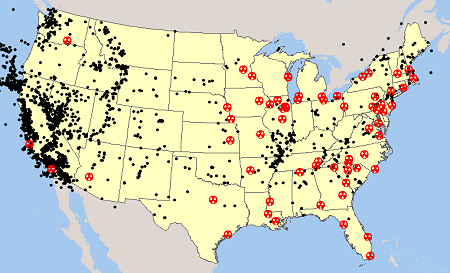 NRDC Says:
"There are 104 nuclear reactors in the United States. If one of them lost both primary and backup power for even a matter of hours, it could lead to a meltdown and an airborne radioactive plume. See what could have happened if a reactor in your area had a severe nuclear accident on March 11, 2011"
View the NRDC Interactive Nuclear Risk Maps
We also provide:
Zipcode shapefiles based on 2010 census data
U.S. School District shapefiles
U.S. Dams and Risks shapefiles
Indian and Federal Lands shapefiles
Climate Change shapefiles
Please Contact me if you have a need for custom shapefiles or GIS projects.
Sponsors
<-- GIS News
Didn't find what you are looking for? We've been online since 1996 and have created 1000's of pages. Search below and you may find just what you are looking for.
---
Michael R. Meuser
Data Research & GIS Specialist
MapCruzin.com is an independent firm specializing in GIS project development and data research. We created the first U.S. based interactive toxic chemical facility maps on the internet in 1996 and we have been online ever since. Learn more about us and our services.
Have a project in mind? If you have data, GIS project or custom shapefile needs contact Mike.
Sponsors