REVIEW - Fast Food Nation: The Dark Side of the All-American Meal by Eric Schlosser.
Fair Use Statement
About Buying Books Online
See Also --> Mad Cow USA: Could the Nightmare Happen Here?, Trust Us, We're Experts: How Industry Manipulates Science and Gambles With Your Future.
Purchase Online and Save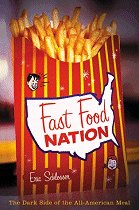 Fast Food Nation: The Dark Side of the All-American Meal by Eric Schlosser. (best seller)
Editorial Reviews
On any given day, one out of four Americans opts for a quick and cheap meal at a fast food restaurant, without giving either its speed or its thriftiness a second thought. Fast food is so ubiquitous that it now seems as American, and harmless, as apple pie, but the industry's drive for consolidation, homogenization, and speed has radically transformed America's diet, landscape, economy, and workforce, often in insidiously destructive ways. Eric Schlosser, an award-winning journalist, opens his ambitious and ultimately devastating exposť with an introduction to the iconoclasts and high school dropouts, such as Harlan Sanders and the McDonald brothers, who first applied the principles of a factory assembly line to a commercial kitchen. Quickly, however, he moves behind the counter with the overworked and underpaid teenage workers, onto the factory farms where the potatoes and beef are grown, and into the slaughterhouses run by giant meatpacking corporations. Schlosser wants you to know why those French fries taste so good (with a visit to the world's largest flavor company) and "what really lurks between those sesame-seed buns." Eater beware: forget your concerns about cholesterol, there is--literally--feces in your meat.
Schlosser's investigation reaches its frightening peak in the meatpacking plants as he reveals the almost complete lack of federal oversight of a seemingly lawless industry. His searing portrayal of the industry is disturbingly similar to Upton Sinclair's The Jungle, written in 1906: nightmare working conditions, union busting, and unsanitary practices that introduce E. coli and other pathogens into restaurants, public schools, and homes. Almost as disturbing is his description of how the industry "both feeds and feeds off the young," insinuating itself into all aspects of children's lives, even the pages of their school books, while leaving them prone to obesity and disease. Fortunately, Schlosser offers some eminently practical remedies. "Eating in the United States should no longer be a form of high-risk behavior," he writes. Where to begin? Ask yourself, is the true cost of having it "your way" really worth it? -- Lesley Reed
Book Description
To a degree both engrossing and alarming, the story of fast food is the story of postwar America. Though created by a handful of mavericks, the fast food business has triggered the homogenization of our society. Fast food has unleashed the of our landscape, widened the chasm between rich and poor, spawned an epidemic of obesity, and propelled the juggernaut of American cultural imperialism abroad. That's a lengthy list of charges, but Schlosser makes them stick with an artful mix of first-rate reportage, wry wit, and careful reasoning. Schlosser has unearthed a trove of fascinating, unsettling truths -- from the unholy alliance between fast food and Hollywood, to the source of one major chain's flavors (the New Jersey Turnpike), to the seismic changes the industry has wrought in food production, popular culture, and even real estate. He also uncovers fast food's enormous efforts to reel in the youngest, most susceptible consumers even while it hones its institutionalized exploitation of teenagers and minorities. Schlosser then turns a critical eye toward globalization -- one of today's hottest topics and a phenomenon launched and fueled by fast food.
FAST FOOD NATION is a groundbreaking work of investigation and cultural history, likely to transform the way America thinks about the way it eats.
Purchase Online and Save
About Buying Books Online