REVIEW - Let Them Eat Data: How Computers Affect Education, Cultural Diversity, and the Prospects of Ecological Sustainability by C. A. Bowers.
Fair Use Statement
About Buying Books Online
See Also --> The Culture of Denial: Why the Environmental Movement Needs a Strategy for Reforming Universities and Public Schools, also by C. A. Bowers
Purchase Online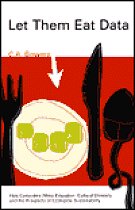 Let Them Eat Data: How Computers Affect Education, Cultural Diversity, and the Prospects of Ecological Sustainability by C. A. Bowers.
Editorial Reviews
Book Description
Do computers foster cultural diversity? Ecological sustainability? In our age of high-tech euphoria we seem content to leave tough questions like these to the experts. That dangerous inclination is at the heart of this important examination of the commercial and educational trends that have left us so uncritically optimistic about global computing.
Contrary to the attitudes that have been marketed and taught to us, says C. A. Bowers, the fact is that computers operate on a set of Western cultural assumptions and a market economy that drives consumption. Our indoctrination includes the view of global computing innovations as inevitable and on a par with social progress--a perspective dismayingly suggestive of the mindset that engendered the vast cultural and ecological disruptions of the industrial revolution and world colonialism.
In Let Them Eat Data Bowers discusses important issues that have fallen into the gap between our perceptions and the realities of global computing, including the misuse of the theory of evolution to justify and legitimate the global spread of computers, and the ecological and cultural implications of unmoving knowledge from its local contexts as it is digitized, commodified, and packaged for global consumption. He also suggests ways that educators can help us think more critically about technology.
Let Them Eat Data is essential reading if we are to begin democratizing technological decisions, conserving true cultural diversity and intergenerational forms of knowledge, and living within the limits and possibilities of the earth's natural systems.
About the Author
C.A. Bowers served on the faculty of the University of Oregon and Portland State University and is now semiretired. He is the author of several books that examine the connections between education, culture, and the environmental crisis, including Educating for an Ecologically Sustainable Culture and The Culture of Denial.
Purchase Online
See Also --> The Culture of Denial: Why the Environmental Movement Needs a Strategy for Reforming Universities and Public Schools, also by C.A. Bowers
About Buying Books Online
Didn't find what you are looking for? We've been online since 1996 and have created 1000's of pages. Search below and you may find just what you are looking for.
---
Michael R. Meuser
Data Research & GIS Specialist
MapCruzin.com is an independent firm specializing in GIS project development and data research. We created the first U.S. based interactive toxic chemical facility maps on the internet in 1996 and we have been online ever since. Learn more about us and our services.
Have a project in mind? If you have data, GIS project or custom shapefile needs contact Mike.