REVIEW - Mad Cow U.S.A.: Could the Nightmare Happen Here? by Sheldon Rampton, John Stauber.
Fair Use Statement
About Buying Books Online
See Also --> Mad Cowboy: Plain Truth from the Cattle Rancher Who Won't Eat Meat
Trust Us, We're Experts
The Trembling Mountain: A Personal Account of Kuru, Cannibals, and Mad Cow Disease
Mad Cow Crisis: Health and the Public Good
Fast Food Nation
Also, check mad-cow.org for the most recent info on mad-cow and related diseases.
Recent News
Michigan brain-disease deaths 'unusual, disturbing' (05/01/2002).
Us Cows: Sacred Or Mad? (07/01/2001).
Could mad cow strike U.S.? (06/03/2001).
Purchase Online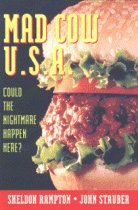 Mad Cow U.S.A.: Could the Nightmare Happen Here? by Sheldon Rampton, John Stauber.
Note: the above Hardcover was published in 1997 and is a wonderful background resource as well as still being very timely and pertinent to today's discussions.
A paperback reprint is due July, 2001. If you would rather have the paperback, check here for more information.
Editorial Reviews
Amazon.com
Mad Cow U.S.A. is not the book to read before you go out for a steak. In fact, it's not really a book to read before eating anything; this chronicle of government cave-in to pressure from the food industry just might scare away your appetite. Authors Sheldon Rampton and John Stauber argue that both the American and British governments colluded with beef producers to suppress important facts about interspecies transmission of bovine spongiform encephalopathy, or "mad cow disease"--facts that might have prevented gruesome deaths. Could a British-style BSE epidemic happen in America? In a 1996 TV talk show, Oprah Winfrey attempted to ask the same question, only to find herself slapped with a lawsuit by a group of Texas cattlemen. Their grounds: the so-called agricultural product disparagement laws currently on the books in 13 states; these laws prohibit people from questioning the safety of any agricultural product, shifting the legal burden of proof from the food industry to its watchdogs. What happens when anyone who speaks out about problems with our food supply can be sued into silence? Rampton and Stauber fear grave consequences for public health, and they make a convincing case against these laws--and, inadvertently, for vegetarianism.
Will St. John, Detroit Free Press, 11/23/97
"Rampton and Stauber concentrate on the mire of government response to an uncertain threat. In its own way that is just as terrifying as the disease itself. ... The book manages to avoid becoming mere polemic. Their scorn for various halfway measures and public-relations choices is prominent, but they have been reasonably fair in giving voice to the concerns that went into those choices. ... Could the nightmare happen here? Yes, the authors say. ... Perhaps most distressing, one could easily imagine the same set of responses to other potentially deadly but so far uncertain dangers, from global warming to meteor impact. This is indeed a cautionary tale."
New Scientist, 4/4/98
"Most accessible and informative... a lively account...The language is clear and straightforward... Sheldon Rampton and John Stauber tell this larger tale with style, aided by accounts of some richly colourful characters. ... Their exhaustive exploration of the people, the ideas and the growing understanding of TSEs is thought-provoking... dancing prose."
Journal of the American Medical Association, 6/24/98
"Will be received with interest by a large number of readers of different backgrounds and perspectives."
Chemical & Engineering News, 4/20/98
"The kind of book you can't put down. It tells with great clarity a complicated story that interweaves intrigue, horror, massive economic interests, cannibalism, death, and some rather curious science. ... [The authors] have done the legwork and research necessary to produce a solid accounting of the affliction of mad cow disease, the mess that was made of handling it in Britain, and its implications for the U.S. ... required reading ..."
The author, Sheldon Rampton, [email protected], January 1, 1998
Oprah's "Mad Cow" Trial Starts Jan. 20, 1997 in Texas A JURY WILL DECIDE A HISTORIC TEST OF 'FOOD DISPARAGEMENT LAWS' VERSUS FIRST AMENDMENT AND FREE SPEECH RIGHTS. Talk show host Oprah Winfrey and her guest Howard Lyman will be in U.S. District Court in Amarillo, Texas on Jan. 20th defending their free speech rights against a novel lawsuit brought by Texas cattlemen. The cattlemen allege that an April 16, 1996, Oprah Winfrey Show violated a new Texas law forbidding 'food disparagement' when it aired a discussion of human deaths from British mad cow disease and related risks in the United States.
The offending program was in fact a serious, balanced debate among representatives of the meat industry, government and consumers. To read what Oprah and her guests said, see "Shut Up and Eat: Food Censorship Arrives in America," a special report in the 2nd Quarter 1997 issue of PR Watch, which investigates industry efforts to censor public debates.
A nationally coordinated campaign by the food industry has succeeded in enacting food disparagement laws in thirteen states. The Oprah Winfrey trial will be a crucial first test of the constitutionality of the new laws.
Critics note that food disparagement laws undermine first amendment rights by shifting the burden of proof to those who discuss or investigate food issues. The laws enable industry to sue or intimidate anyone who speaks or writes about mad cow disease, e.coli deaths, salmonella poisoning, genetically engineered crops and animals, hormones, antibiotics, factory farming, pesticides, toxins in fertilizers and other controversies.
"Mad Cow U.S.A." examines in depth the Oprah case and food disparagement laws. One of our main reasons for writing the book, in fact, is that we view food disparagement laws as a dangerous threat to public health, food safety, free speech, open debate and the public's right-to-know. If someone as popular and powerful as Oprah Winfrey can be muzzled by the meat industry, what chance do 'typical' citizens and journalists have to fully exercise their first amendment rights?
Reader Reviews
Real page turner--but the horror ending is just beginning!, March 7, 2001
Reviewer: A reader from Charlottesville, VA USA Certainly a must read for today. Despite the alarming and out-there subject, it was quite well-written (genuinely a page turner for me), convincing, and horrifying! It seems to take just such water in the face to wake up us British/Americans from our protect-the-economy-at-all-costs mentality, as the book illustrates. (The British are only now admitting to mad cow in humans--reminding me a little of the tobacco industry here, but the danger is so much worse).
Not What It Should Be, November 4, 2000
Reviewer: eanna (see more about me) from Independence, MO USA Wow. Here I am reviewing a book I actually bought from Amazon. This is a good book, but not a great book. There is a sneering anti-business, anti-government tone that is unsuccessfully masked with pieties, but really gets in the way. As a former USDA employee, I am under no illusions about how they "protect" consumers, but this book just rambles too much and shoots too much. This is a vitally important topic, one that screams for a newer, more comprehensive, more investigative on all sides book. One that avoids snide and pot-shot critique, that does not pad itself with feeble mad cow jokes from the Internet. (Why were those in there????) I prefered Richard Rhodes' Deadly Feasts, a book more concerned with the scientific side, less with the cover-up side. But this is an equally important story to tell, I just do not think it was told well here. There is a huge question these authors touch briefly but do not resolve. That is "Precisely whose science counts as science?" This is a critical question, important in my part of the country as the teaching of evolution is questioned and "experts" are those with credentials from "expert creating" institutions. I wish this book had tackled the various scientists, exposing how much reseach money they were clamoring for, what they stood to gain from their investigations and notoriety, and what their particular axes were. It is not a good guy-bad guy battle. But this book makes it feel all too pat and simple.
And the Beef Goes On..., May 13, 2000
Reviewer: David Kleist (see more about me) from Emmaus, PA Three years after this superb analysis was published, Mad Cow Disease remains an underreported and largely neglected topic (by mainstream Americans, anyway). If one checks out the Mad Cow Disease Homepage, however, one finds that the problem not only has not disappeared but also seems to be spreading throughout both Europe and the U.S. Buy this book; share its contents with everyone you love; and beware overconsumption of candy altoids (made in the UK with beef gelatin)!
Purchase Online
See Also --> Mad Cowboy: Plain Truth from the Cattle Rancher Who Won't Eat Meat
Trust Us, We're Experts
The Trembling Mountain: A Personal Account of Kuru, Cannibals, and Mad Cow Disease
Mad Cow Crisis: Health and the Public Good
Fast Food Nation
Also, check mad-cow.org for the most recent info on mad-cow and related diseases.
About Buying Books Online
Didn't find what you are looking for? We've been online since 1996 and have created 1000's of pages. Search below and you may find just what you are looking for.
---
Michael R. Meuser
Data Research & GIS Specialist
MapCruzin.com is an independent firm specializing in GIS project development and data research. We created the first U.S. based interactive toxic chemical facility maps on the internet in 1996 and we have been online ever since. Learn more about us and our services.
Have a project in mind? If you have data, GIS project or custom shapefile needs contact Mike.