REVIEWS - Shoveling Fuel for a Runaway Train: Errant Economists, Shameful Spenders, and a Plan to Stop Them All by Brian Czech
Fair Use Statement
Purchase Online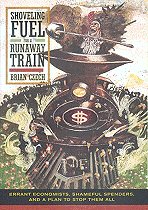 Shoveling Fuel for a Runaway Train: Errant Economists, Shameful Spenders, and a Plan to Stop Them All by Brian Czech.
Editorial Reviews
Publishers Weekly
"He's as good at popularizing economics as Carl Sagan was science."
Green Bay News Chronicle
"Convincing and enjoyable to read."
E Magazine
"[I]t gets to the root of the widespread economic belief that a growing economy is always a healthy one."
E Magazine, Volume 12, No. 2, March-April 2001
...carefully documented, well-reasoned debunking of the 'growth at any costs' philosophy of the late Julian Simon...
Book Description
Americans have been conditioned to appreciate, cheer, and serve economic growth. Brian Czech argues that, while economic growth was a good thing for much of American history, somewhere along the way it turned bad, depleting resources, polluting the environment, and threatening posterity. Yet growth remains a top priority of the public and polity. In this revolutionary manifesto, Czech knocks economic growth off the pedestal of American ideology. Seeking nothing less than a fundamental change in public opinion, Czech makes a bold plea for castigating society's biggest spenders and sets the stage for the "steady state revolution." Czech offers a sophisticated yet accessible critique of the principles of economic growth theory and the fallacious extension of these principles into the "pop economics" of Julian Simon and others. He points with hope to the new discipline of ecological economics, which prescribes the steady state economy as a sustainable alternative to economic growth. Czech explores the psychological underpinnings of our consumer culture by synthesizing theories of Charles Darwin, Thorstein Veblen, and Abraham Maslow. Speaking to ordinary American citizens, he urges us to recognize conspicuous consumers for who they are-bad citizens who are liquidating our grandkids' future. Combining insights from economics, psychology, and ecology with a large dose of common sense, Czech drafts a blueprint for a more satisfying and sustainable society. His ideas reach deeply into our everyday lives as he asks us to re-examine our perspectives on everything from our shopping habits to romance. From his perspective as a wildlife ecologist, Czech draws revealing parallels between the economy of nature and the human economy. His style is lively, easy to read, humorous, and bound to be controversial. Czech will provoke all of us to ask when we will stop the runaway train of economic growth. His book answers the question, "How do we do it?"
From the Back Cover
"Czech has given us a fine mix of economics and ecology, tempered with a lot of common sense."-Herman E. Daly, author of Valuing the Earth: Economics, Ecology, and Ethics "Czech's book occupies a unique niche by combining a critique of standard economics, a plea for a less excessive lifestyle, and extremely interesting insights from a wildlife biologist. Furthermore, Czech has written a popular book, doing a good job of maintaining an accessible style while presenting detailed information and documentation. A good book for students as well as for the general public, Shoveling Fuel will be more, not less, relevant in the years to come."-John M. Gowdy, co-author of Paradise for Sale: A Parable of Nature "Talk of economic sustainability is bogus if not based on ecological principles and environmental realities. Although Czech shows why in a hilarious fashion, this is a serious book about a serious topic. Czech's clarion call for a 'steady state revolution"'-- what it is and how to bring it about -- offers the only hope for real sustainability. This is a fascinating and convincing read."-David L. Trauger, Senior Staff Biologist, U.S. Geological Survey
About the Author
Brian Czech is a conservation biologist with the U.S. Fish and Wildlife Service, Division of Refuges. He is the author of the forthcoming book The Endangered Species Act: History, Conservation Biology, and Political Economy.
Reader Reviews:
This is one for us all, March 24, 2001
Reviewer: Deborah Houck from Ocklawaha, FL United States
If you have the least interest in the direction that the USA is headed ecologically and economically, this book is a must read. Czech has taken a politically charged, difficult subject and turned it into an adventure in creative solutions. With skill and wit that make entertaining and delightful reading, he takes on a serious problem and hands it not to the politicians, economists, or powerful of the world - but to us, the everyday folk who have to live with their decisions. If I were a teacher, I would make this required reading for every student, and as a parent I've passed it on to my kids. Oh - and if you have NO interest in the direction that we are headed - then I suggest you buy two copies. One for yourself, and one for your grandkids.
The Truth About Economics, March 21, 2001
Reviewer: Shauna Hanisch (see more about me) from Alexandria, VA United States
Czech offers a readable and compelling argument about the need for a more common sense approach to our national obsession with economic growth. His discussions of the psychological and biological underpinnings of our human tendencies toward "conspicuous consumption" are thorough and intriguing, but anyone interested in the spiritual underpinnings will probably want to look elsewhere (e.g., Small is Beautiful). Granted, this isn't really intended to be that sort of book. I agree with Czech that a cultural revolution that shows disdain for "economic bloating" is needed (although I would call for a more charitable disdain than he does). However, I don't agree that "liquidators" necessarily make up the majority of those who have forgone self-actualization to satisfy the baser demands of self-esteem. Even self-actualized people can be ignorant about certain things (like ecological economics) and even the most "psychologically healthy" of us struggle with the human tendency to covet all that glitters, whether it's Real Gold or not. Brian writes that "...in our physical manifestation we are a species that is subject to the same laws of nature as all others" and that is pretty much the bottom line. We live in a world of finite resources, yet the neoclassical economists, a vast majority of the public, and even politicians seem to not (or not want to) understand this. And, as anybody who is familiar with the history of world civilization knows, we aren't the first culture to have tried to beat the odds.
The Growth Mania Punctured, March 9, 2001
Reviewer: Alan C. Gregory (see more about me) from Conyngham, PA USA
The perpetual growth machine is arguably the single most destructive mechanism behind the diminishment of nature. Look no further than the corporate center built next to the new highway in New Jersey, or the new "pre-owned car" dealership plopped down somewhere in the LA Metroplex. Brian Czech, a wildlife-biologist-turned-myth-busting-economist, has punctured the growth forever fairy tale in this lively, easy-to-read call to arms for the forthcoming steady-state revolution. After all, what's so bad about just living modestly in concert with the sky, rocks, birds, whales, salamanders and wild elk? Nothing, of course, but most folks have forgotten our place in nature. Only fools can possibly believe forever in the gospel according to Greenspan. It is indeed time to stop shoveling fuel on this runaway train we call the American economy and begin to relearn how to live in concert with the Earth. Stop the train. We want off.
A viable solution to our biggest environmental problem, February 25, 2001
Reviewer: Harvey D. Tjader from Bemidji, Minnesota United States
Written by a wildlife biologist whose personal history is a fascinating patchwork of educational pursuits and jobs that have taken him into cities and wildernesses, as well as onto the high seas, the reader gets the feeling that this book was written from convictions borne in personal experience and verified by academia.
Czech addresses the most pervasive and threatening problem of the modern world - our consumerism. This problem is so large and so intimately woven into the fabric of our society that it is easy to get discouraged by it. Czech offers a solution and a reason to feel optimistic, a plan for a nonviolent revolution in public opinion that will stop conspicuous consumption.
"Shoveling Fuel for a Runaway Train" is written in popular style, accessible and interesting for the reader who may have studied economics at one time in their life and either detested or forgot it. Anyone concerned about the unsustainable extraction of natural resources should read this book; it offers an effective alternative to the impossible task of inducing restraint among capitalists in a global marketplace.
Runaway Book, February 6, 2001
Reviewer: Kenneth F Meyercord (see more about me) from Pleasant Hill, CA United States
This is a painful review to write. Had I read only the first part of "Runaway Train", paeans of praise for the author would gush forth from my pen. Having read the whole book, I am tempted to pepper my comments with vituperative sarcasm. In the first half of the book, Mr. Czech gives a lively, knowledgeable, and lucid exposition on the philosophy of a "steady state" economy and its foremost proponents and critics. I found Mr. Czech's writing style engaging and witty and his arguments compelling (I'll admit I already shared his sentiments about growth). In the second half of the book, Mr. Czech expounds on his strategies for arriving at the steady state. Here I found Mr. Czech's understanding of human societal dynamics simplistic, even sophomoric - about what you would expect of a biologist straying outside his field of expertise, which is what Mr. Czech is. Reflecting his Darwinian view of the animal world, Mr. Czech believes the steady state will be achieved through human females naturally selecting men who are non-"liquidators" of the earth's resources, sort of analogous to lady peacocks selecting their mates by the paucity of their tail feathers instead of their magnificence. Perhaps Mr. Czech should have followed the lead of many of the great philosophers of history - from Jesus to Marx - and restricted himself to describing the present predicament and the future utopia without going into too much detail about how we get from one to the other. The best I can say about Mr. Czech's ideas are that they are on a par with much else that passes for intelligent social commentary in this country (Robert Reich's notion of "symbolic analysts", expounded in "The Work of Nations", comes to mind). The only other defense I can give for Mr. Czech's naïve prescription is that a realistic appraisal of the possibility of man saving himself from the catastrophic end which events (and books like "Runaway Train") make increasingly obvious is cause for profound pessimism.
Everyone should read this book!, February 3, 2001
Reviewer: petermalex (see more about me) from Iowa CIty, IA
I think it may be the most important book I've ever read. It says in a thorough and well grounded way what has always been obvious to me by common sense: perpetual expansion is not possible in a finite universe. As a kid, I understood what most political and business leaders have never been able to acknowledge: that some day we will run out of oil and gas. Of course that is only the tip of the iceberg -- we'll run out of forests, water, mineral resources, and so forth. From the age of 10 until today I have never stopped worrying about the future that I, and now my children & grandchildren, will have to face. But now I have read a book that gives me hope -- hope that others DO understand these problems, can explain them in an entertaining and compelling way, and know what we can do about them. Czech deals with the daunting field of economics in a clear and entertaining way. He shows how American society is taught to consider economic growth as desirable, even necessary, but without considering the limits that are ultimately going to have to be reckoned with. He explains how a few scientists and ecological economists are starting to speak out about these problems, and he calls for a "steady state" revolution that is the best hope for the future comfort of people on Earth. Buy this book, enjoy it, believe it, and help change the world -- before it's too late!
Steady-staters unite!, November 16, 2000
Reviewer: Paul K. Strode from Urbana, IL United States:
I started reading "Shovelling Fuel..." again as soon as I finished it to be sure I got every detail! This is a fun and easy read that puts any textbook on economics to shame; and it's 100 times more compelling! Ironically, I covered the last two chapters while sipping an eggnog latte at Starbucks in Seattle's uppity University Village. As a steady-stater I wanted to be amongst our country's finest amorphs and liquidators for Czech's inspirational closing call-to-arms for the environment and our grandchildren.
Purchase Online