One Year Since Fukushima: Movie, Maps, Shapefiles, Events
Sponsors

<-- GIS News

Today, March 11, 2012, marks the one year anniversary of the nuclear catastrophe at Fukushima, Japan. Many say that is was worse than Chernobyl. For Japan this is the second largest disaster after Hiroshima and Nagasaki. Researchers estimate that fallout from Fukushima resulted in 14,000 premature deaths in the U.S. during the first 14 weeks after the disaster.

We began our experiment with nuclear devices in the 1940s. It is my legacy. My father, a young graduate student at the University of California, Berkeley, was enlisted by E.O. Lawrence to run the Calutron, learning how to separate plutonium from the other isotopes of uranium for the Manhattan Project resulting in the atomic bombs dropped on Nagasaki and Hiroshima. He continued his work on nuclear weapons until the above ground test ban was enacted in the 1960s. Later he worked on the Bevatron and other atom-smashers ending with his work on the never completed Super Collider. He also worked side jobs designing several nuclear reactor powerplants. Later in his life he became convinced that we should bring the end to the nuclear age as soon as possible. I've added a scan of a bit of memorbilia from the Pacific tests period below and I'll be writing a more detailed article about this and my dad's involvement in the bombs dropped at Nagasaki and Hiroshima soon.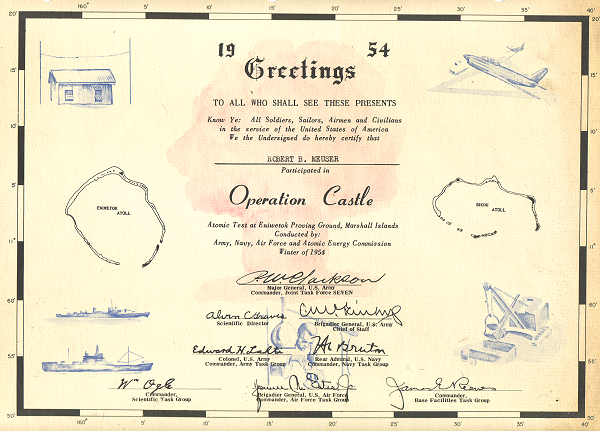 Here's a brand new movie, One Year Later, about the Fukushima nuclear disaster.
Sponsors
There are also a host of events around the globe today, March 11, 2012, tomorrow, March 12, 2012.
March 11 - Global Fukushima Action Day 2012 - Calendar of Events
March 11th and 12th events in the U.S.
In the U.S. nearly 25% of the 104 operating nuclear powerplant reactors are the same as those that failed at Fukushima yet. You can view and download some maps I have created showing these facilities.
I also created nuclear neactor power plant, seismic hazard and historical earthquakes ArcGIS shapefile maps, images in TIF, PNG and PDF Formats
Any of the above are free to use as you like, but please do mention or credit mapcruzin.com if you do. Thank You!
See Also: 120 Million Americans at Risk to Fukushima-Like Nuclear Accident.
<-- GIS News
Didn't find what you are looking for? We've been online since 1996 and have created 1000's of pages. Search below and you may find just what you are looking for.
---
Michael R. Meuser
Data Research & GIS Specialist
MapCruzin.com is an independent firm specializing in GIS project development and data research. We created the first U.S. based interactive toxic chemical facility maps on the internet in 1996 and we have been online ever since. Learn more about us and our services.
Have a project in mind? If you have data, GIS project or custom shapefile needs contact Mike.
Sponsors