4. YOUR FIRST MAP PROJECT

Now you will learn to create your own mapping project. To obtain the map layers for the county of our choice, go to:
www.esri.com/data/download/census2000-tigerline/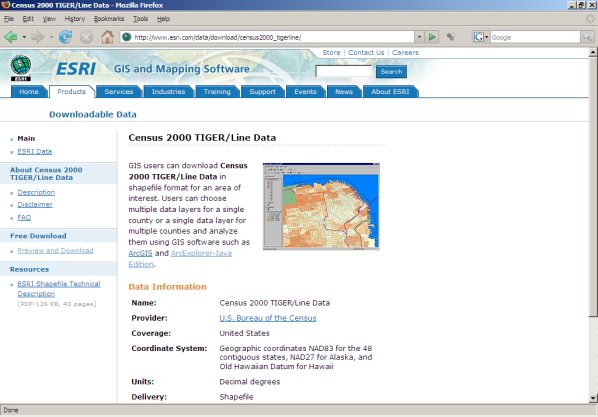 Click on the link "Preview and Download" on the left side of the page and you will be taken to a page with a U.S. map on it. Click on your state or pick it from the drop down menu.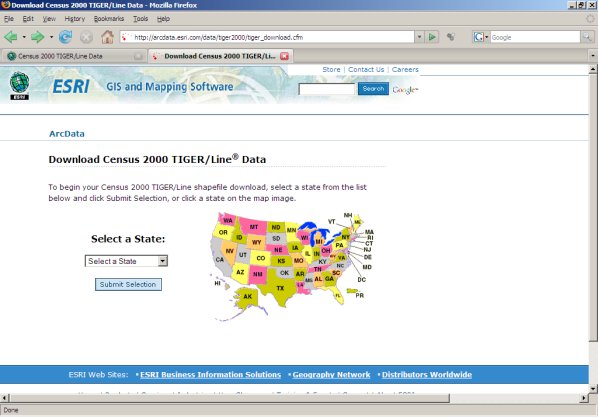 On the following page select your county from the drop down menu.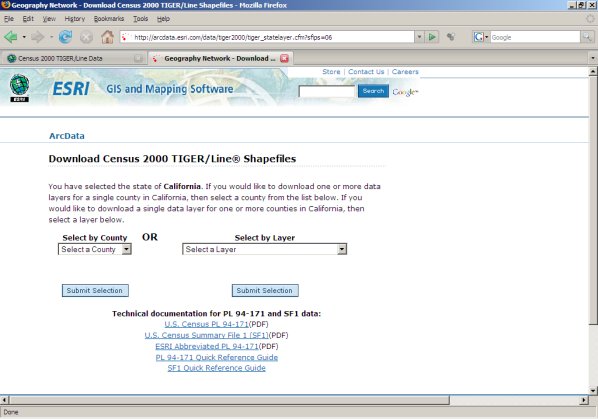 The next page will give you the option of selecting individual layers.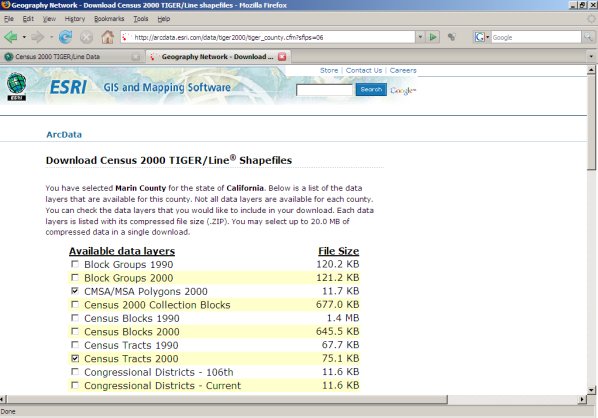 Make your choice(s) and click on "Proceed to Download" near the bottom of the page. When your file is ready you will see a new page. Note that there are other links at the bottom of the page. These documents will help you better understand the data that is contained in each of the layers.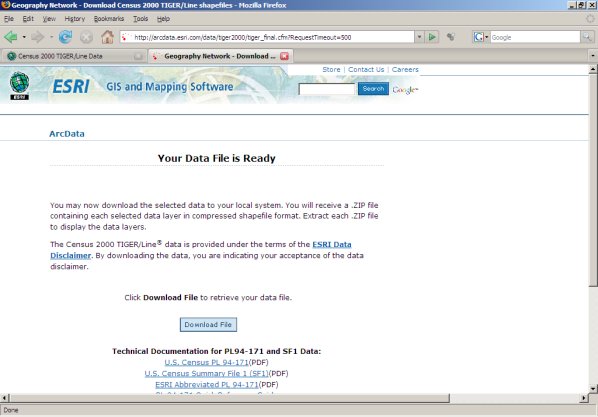 Scroll near the bottom of this page and click on "Download File Now." Save this file in your "mapcruzin_maps" directory. If you like, you can create a subdirectory like "tiger" or the county name or whatever name makes most sense to you. Note that this page also has links to several detailed discussions about the U.S. Census data.

Now go to the directory you chose and double-click on the file name (it will have a .zip extension). Jzip, a free program, will open (if you do not have Jzip, it can be downloaded from www.jzip.com. Do not mark any files just click on the extract button at the top of the page. A dialogue box will open. Navigate through the directories so that the file is extracted in the same directory.

You will find a number of zip files. Each one corresponds to the layers you chose. You can now extract each one so they can be added to your new map.

Click on "Extract" and work your way down to c:/mapcruzin_maps/, then click on "New Folder" and type in "tiger." This will extract all the files to a new directory, c:/mapcruzin_maps/tiger/.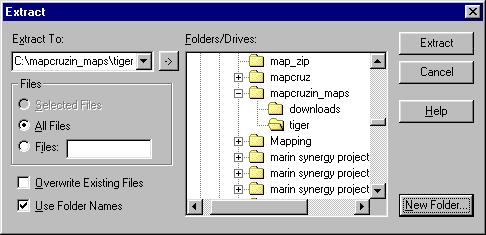 To create a new map using these themes open ArcExplorer. Go to the menu item "Theme" and scroll down and click on "Add Theme."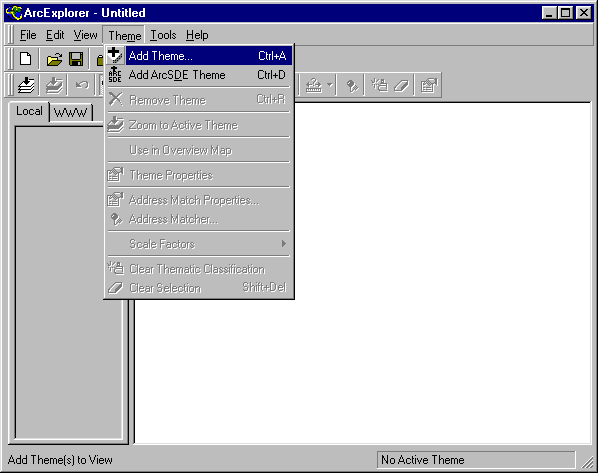 Navigate to the directory where you places the Tiger files downloaded above, click on a layer to highlight it, click on "Add Theme" and then on "Close." (Note that ArcExplorer will unzip these files for you).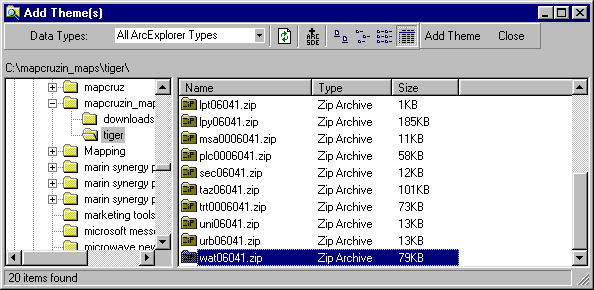 Note that you can add multiple themes all at once by either highlighting the top theme, scrolling down, holding down your "shift" key and highlighting the bottom theme or by selecting them individually by highlighting as you hold down the "ctrl" key.

You now see the theme(s) that you have added listed in the theme box to the left of the map window.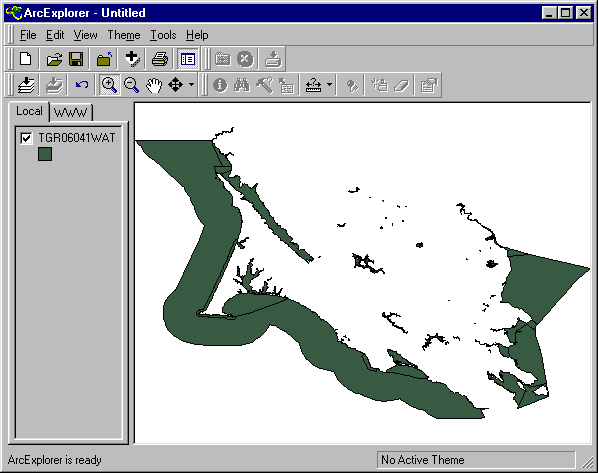 Recall that you can turn these off and on by checking or unchecking the box next to their name. To make a theme "active" so that you can view its related data with the "i" tool, you must click on its name. You can change the attributes of any theme by double-clicking on its name. You can change the order of the way themes are displayed on the map by placing your mouse over a theme's name, holding down your left button and dragging the theme up or down to its new position.

If you are interested in degree and certificate programs, check out Online GIS (Geographic Information System) Education Resources - Distance Learning for Bachelors, Masters, Certificates
Didn't find what you are looking for? We've been online since 1996 and have created 1000's of pages. Search below and you may find just what you are looking for.
---
Michael R. Meuser
Data Research & GIS Specialist
MapCruzin.com is an independent firm specializing in GIS project development and data research. We created the first U.S. based interactive toxic chemical facility maps on the internet in 1996 and we have been online ever since. Learn more about us and our services.
Have a project in mind? If you have data, GIS project or custom shapefile needs contact Mike.