5. ADDING MORE TO YOUR MAP

There are several free sources for additional layers in shapefile format that will work with ArcExplorer and can be added as themes to any map you are working on. Check the sources on the next page and also click here for my archive of free map layers.

For this example I have chosen to download the National Parks map layer from BTS (Bureau of Transportation Statistics). Click on the link below, "BTS 'background' map layers." The link will take you to this page: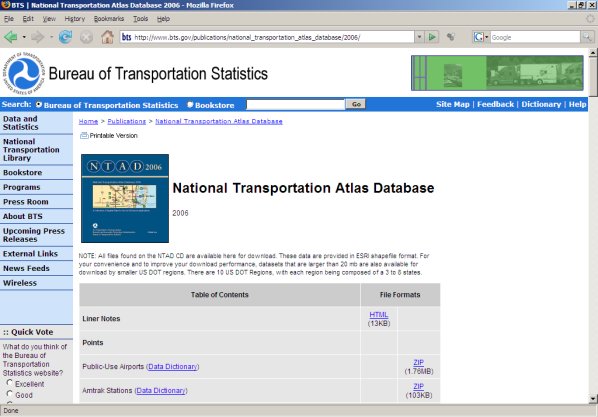 Scroll down to National Parks and download it to your c:/mapcruzin_maps/downloads/ directory.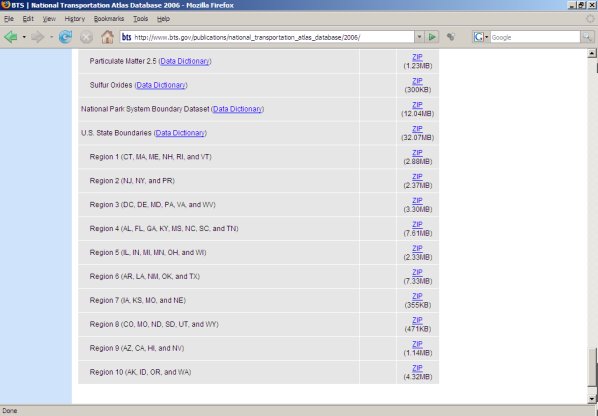 Once downloaded you can add it to your project using the previous steps for adding a theme. Add other layers in a similar manner.

One thing to note. As you learned earlier, ArcExplorer will open themes that are in zip format for you. When it does this it actually unzips the file and adds the corresponding shapefiles to your directory.

If you add the zipped files as themes to a project that already contains some themes, you may find that ArcExplorer will make you create a new project that only includes the most recent added theme. To get around this, you can use the Theme --> Add Theme menu to add the previous themes that are seemingly "lost." Make sure that you add the file(s) with the "shp" file extension rather than those with the "zip" extension.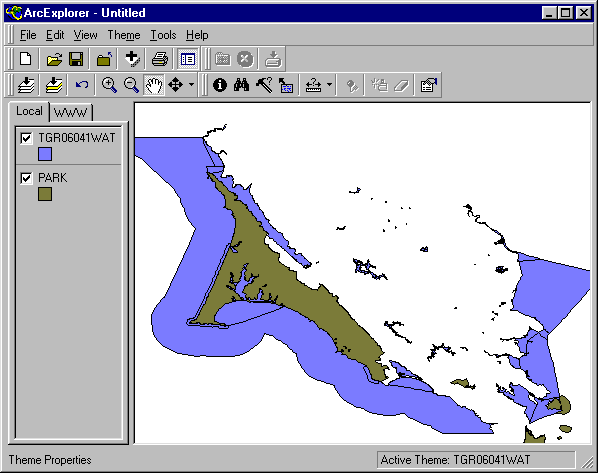 Downloading BTS Map Layers
Click here to download any of the following BTS "background" map layers.
Points
Public-Use Airports
Amtrak Stations
Automatic Traffic Recorder Stations
National Populated Places
U.S. Army Corps of Engineers Ports
Intermodal Terminal Facilities
Weigh in Motion Stations
Polyline
Hazardous Material Routes
Highway Performance Monitoring System
Railway Network (1:2,000,000 base scale)

United States (line)
United States (node)

Public Use Airport Runways
Fixed-Guideway Transit Facilities
U.S. Army Corps of Engineers Navigable Waterway Network

United States (line)
United States (node)
Polygons
Bureau of the Census Urbanized Area Boundaries (1:100,000 base scale)
The 109th Congressional Districts Boundaries (1:100,000 base scale)
U.S. County Boundaries (1:100,000 base scale)
Hydrographic Features

United States (line) (Data Dictionary)
United States (polygon/arc)

U.S. Military Installations
Metropolitan Planning Organization
National Metropolitan Statistical Areas (1:100,000 base scale)
Non Attainment Areas

Carbon Monoxide
Lead (Data Dictionary)
Nitrogen Dioxide
Ozone
Particulate Matter 10
Particulate Matter 2.5
Sulfur Oxides

National Park System Boundary Dataset
U.S. State Boundaries
Downloading National Atlas Map Layers
Click here to download the following National Atlas map layers. Before you download, you can read a detailed description of the layer(s) that interest you. Be sure to click on the "shapefile" to download. Note that the atlas is being "built" on an ongoing basis. New map layers are added continually so check the National Atlas page often if you are interested in this material.
Agriculture Census

Average Annual Precipitation

Breeding Bird Survey Routes of North America

Cancer Mortality

Coal Fields of the United States

Crimes

Dams

Hurricane and Cyclone Tracks

Hydrologic Unit Boundaries

Landslide - Costly Events

Magnetic Field-Declination Component

Mineral Operations - Various

Mortality

Parkways and Scenic Rivers

Principal Aquifers

Public Land Survey System

Earthquakes

Time Zones

Urban Areas

Volcanoes

Water Features
Check back frequently for more layers

If you are interested in degree and certificate programs, check out Online GIS (Geographic Information System) Education Resources - Distance Learning for Bachelors, Masters, Certificates

Didn't find what you are looking for? We've been online since 1996 and have created 1000's of pages. Search below and you may find just what you are looking for.
---
Michael R. Meuser
Data Research & GIS Specialist
MapCruzin.com is an independent firm specializing in GIS project development and data research. We created the first U.S. based interactive toxic chemical facility maps on the internet in 1996 and we have been online ever since. Learn more about us and our services.
Have a project in mind? If you have data, GIS project or custom shapefile needs contact Mike.