Research: Right-to-Know or Left-to-Wonder
RTK News - RTK Resources - Lost and Found
GIS Shapefile Store - for Beginners & Experienced GIS Users Alike. Geographic Names Information System, Nuclear Facilities, Zip Code Boundaries, School Districts, Indian & Federal Lands, Climate Change, Tornadoes, Dams - Create digital GIS maps in minutes.

Follow on Twitter
A Member of the
Reimagination Network
Didn't find what you are looking for? Email me and I'll find it for you.
Progressive Links
Federation of American Scientists
Physicians for Social Responsibility
Public Employees for Environmental Responsibility
Have a question or comment? Post them at the MapCruzin Blog.
MapCruzin Consulting
GIS and Google Maps Development, Website Creation and Hosting, Fast and Affordable.
Offshore Oil Spill Maps, Software and GIS Shapefiles
<-- Free GIS Software & Resources
<-- Deepwater Horizon Gulf Oil Spill
We are listing here a growing number of mapping and GIS resources related to offshore oil spills. Return soon for more maps, software and GIS shapefiles.
SkyTruth Remote Sensing Image Maps of Gulf Oil Spill - SkyTruth is monitoring the growing oil spill in the Gulf of Mexico using NASA/MODIS satellite imagery and publishing daily reports and analysis as the situation develops.
ESI - Deepwater Horizon Gulf Oil Spill Environmental Sensitivity Index (ESI) Atlases - ESI Viewers are free tools that you can use to view and query Environmental Sensitivity Index (ESI) atlases using the MARPLOT mapping program and a FileMaker application.
Sponsors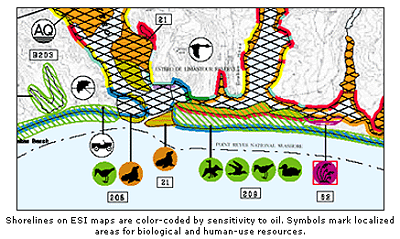 GNOME (General NOAA Operational Modeling Environment) is the oil spill trajectory model used by OR&R Emergency Response Division (ERD) responders during an oil spill.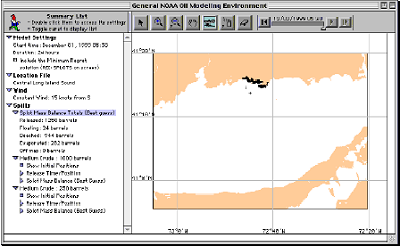 Sponsors
<-- Free GIS Software & Resources
<-- Deepwater Horizon Gulf Oil Spill
See Also:
Free ArcGIS Shapefiles, Free Maps, Google Earth & Maps, Free GPS, Satellite and Aerial, GIS Tutorials.
Didn't find what you are looking for? We've been online since 1996 and have created 1000's of pages. Search below and you may find just what you are looking for.
---
MapCruzin.com is an independent firm specializing in the publication of educational and research resources. We created the first U.S. based interactive toxic chemical facility maps on the internet in 1996 and we have been online ever since. Learn more about us and view some of our projects and services.
If you have data, GIS project or custom shapefile needs send me an email.