myRTK Toxic Maps and Information for Mobile Devices
History
Back in the 1990s MapCruzin.com created the interactive maps for EDF's Scorecard project. We were contracted to do this because we created the first U.S. based interactive toxic maps on the internet - the Santa Cruz Toxic Release Inventory. Several years ago EDF quit mapping toxics, but scorecard is still a viable source for health effects related to toxics. Since the EDF project, we have continued to map toxics. We did guite a bit of work for the Silicon Valley Toxics Coalition and many projects as part of our interest in bringing Right-to-Know and toxic chemical facility release information to communities in easy-to-use formats.
Some of our outreach efforts include:
EPA myRTK Toxic Release Inventory for Mobile Devices
View screenshots and brief descriptions of myRTK.
myRight-to-know is an EPA Web application designed for mobile devices. This application takes existing EPA information and packages it in a format and with a level of detail that is appropriate for mobile devices and mobile users. For any location or address, myRTK maps nearby facilities that report to TRI, as well as large permit holders in the Air, Water or Hazardous Waste programs that are expected to produce, manage or release TRI-reportable chemicals. The application compares individual facility releases to releases by other facilities in the county, as well as to other facilities in the same industrial sector. myRTK also identifies the most serious facility non-compliance across the twelve most recent quarters of data for the three principal U.S. environmental statutes: the Clean Air Act, the Clean Water Act, and the Resource Conservation and Recovery Act.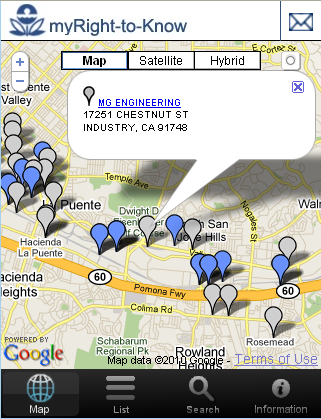 In addition to helping mobile users locate and identify nearby facilities, the tool helps answer such questions as:
What chemicals are released to the air, water and land?
What health effects are associated with the chemicals released?
What is the facility's history of compliance with U.S. environmental laws?
myRTK test version is currently compatible with the Mozilla Firefox and Google Chrome Web browsers, and is not currently compatible with Internet Explorer Web browser.
Map Legend
Map pin Facilities that submitted Toxics Release Inventory (TRI) reports for calendar year 2008. TRI reporters are typically large users or manufacturers of chemicals. Facilities must report to TRI if their use of any of the 650+ listed toxic chemicals is above TRI reporting thresholds and they have 10 or more full time equivalent employees.
Map pin Facilities that did not report to TRI for 2008 but that have other EPA records indicating they may release or manage TRI-reportable chemicals. These facilities include:
Clean Air Act (CAA) regulated facilities that are expected to release to air at least 20,000 pounds of a single "hazardous air pollutant" (most of which are TRI-reportable chemicals) or 50,000 pounds of more than one hazardous air pollutant;
Clean Water Act (CWA) regulated facilities that discharge more than 25,000 gallons of wastewater per day containing one or more TRI-reportable chemicals; or
Facilities that generate or handle hazardous waste as defined under the Resource Conservation and Recovery Act (RCRA). This includes facilities permitted to treat, store, or dispose of RCRA hazardous wastes as well as facilities that generate at least 2,200 pounds of hazardous waste in a given month. These wastes commonly contain TRI-reportable chemicals.
Explanations
Facility Universe
myRTK displays only facilities that report to TRI or are large permit holders in the Air, Water or Hazardous Waste programs and are expected to produce, manage, or release TRI-reportable chemicals. Approximately 45,500 facilities meet one or more of these criteria.
22,000 facilities reported to TRI that they manufactured, processed or otherwise used TRI-listed chemicals in quantities exceeding threshold amounts in 2008. For most of the 650+ TRI chemicals the reporting threshold is 25,000 lbs./year manufactured or processed and 10,000 lbs./year otherwise used, but the threshold may be as low as 10 lbs./year for certain persistent bioaccumulative toxic (PBT) chemicals and 0.1 gram for the dioxin and dioxin-like compounds category;
6,400 "Major" water discharge permit holders reporting one or more TRI reportable chemicals;
1,700 "Major" air permit holders with large potential hazardous air pollutant releases; and
24,000 hazardous waste Treatment Storage and Disposal Facilities and Large Quantity Generators of hazardous waste.
Releases
Releases of TRI-reportable chemicals are included in this version of myRTK . There are many other pollutants that have significant health and ecosystem effects and which are regulated under federal environmental laws. For example, combustion byproducts, such as sulfur oxides, nitrogen oxides, particulate matter and carbon monoxide are the focus of CAA permitting and controls. In addition, EPA is proposing regulations to gather information on air emissions of greenhouse gases, such as carbon dioxide and methane. At present, facility-level estimates of these emissions are not included in myRTK. Some water pollutants of concern that are not included in myRTK are pollutants that stimulate biological microorganisms and reduce the amount of oxygen in the water for fish; suspended solids; and extreme temperatures and pH. All of these water pollutants can interfere with healthy aquatic ecosystems. Both solid wastes and hazardous wastes regulated under RCRA may pose limited risks if properly managed, but, if released, as in a spill, have the potential to cause harm to human health and the environment.
Health Effects
The check marks on the facility report indicate if
EPA has compiled suitable health effects information for this chemical and
The assessment indicates if the chemical might cause cancer and if the chemical has any of 17 other health effects.
This version of myRTK is limited to human health effects. The carcinogenicity classifications are taken from the International Agency for Research on Cancer, part of the World Health Organization. The assessments for Other Health Effects are taken primarily from EPA's TRI Chemical Hazard Information Profiles (TRI-CHIP), a database compilation of health effects from numerous other sources. It should be noted that if neither health effect end point is checked on the facility report, toxicity information is not available. It should also be noted that adverse health effects from chemical exposures depend on many factors including toxicity, environmental fate, and the extent of exposure to the chemical.
Compliance
The principal U.S. environmental statutes included in this version of myRTK are:
§313 of the Emergency Planning and Community Right-to-Know Act (EPCRA) and §6607 of the Pollution Prevention Act (PPA), which established and expanded the scope of the TRI Program; the
Clean Air Act (CAA), which controls pollutant emissions to the air; the
Clean Water Act (CWA), which controls discharges to the nation's waterways and requires that facilities have permits to discharge; and the
Resource Conservation and Recovery Act (RCRA), which requires proper handling of solid and hazardous wastes.
The three-year compliance summary displays the most serious non-compliance issues across the most recent twelve quarters of data for CAA, CWA and RCRA requirements at the facility. For example, if the facility is deemed to have been in significant non-compliance for any portion of the three-month quarter under any program, that quarter will be displayed in red (significant non-compliance). The "more" link in the facility report Compliance section retrieves a detailed compliance record from EPA's Enforcement and Compliance History Online Web site, where records may be more current than the information on myRTK.
To access the test version of the myRight-To-Know application, visit m.epa.gov/myrtk from your mobile or desktop device.
View screenshots and brief descriptions of myRTK.
Source: myRTK
About Quality, Accuracy and Suitability
The geodata, maps and shapefiles found on the MapCruzin.com website may come from a variety of government and private sources. While we try to assure the accuracy of this material, we cannot promise that it is absolutely accurate. We do promise that using this will be fun, entertaining or educational. Beyond this, we make no guarantee as to its suitability for any purpose. We assume no liability or responsibility for errors or inaccuracies. Please understand that you use this at your own risk.
Didn't find what you are looking for? We've been online since 1996 and have created 1000's of pages. Search below and you may find just what you are looking for.
---
Michael R. Meuser
Data Research & GIS Specialist
MapCruzin.com is an independent firm specializing in GIS project development and data research. We created the first U.S. based interactive toxic chemical facility maps on the internet in 1996 and we have been online ever since. Learn more about us and our services.
Have a project in mind? If you have data, GIS project or custom shapefile needs contact Mike.