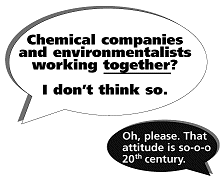 Introduction


To your left is a portion of an Environmental Defense (ED) and Chemical Manufacturers Association (CMA) ad that the two organizations jointly released to annouce the voluntary High Production Volume (HPV) testing program. Partnerships like this and other business-friendly initiatives (commonsense, innovative permitting, reinvention, and the like) have grown over the last decade. The new republican administration is sure to build upon these.

Large environmental groups have become increasingly professional, increasingly wealthy (see Losing Ground: American Environmentalism at the Close of the Twentieth Century) and the foundations that fund these groups are relatively free of any democratic oversight (see American Foundations: An Investigative History.

It is time to begin discussing what environmentalism has become and what it should be in the 21st century. What works and what does not? What is left out? Who is left out? Is environmentalism democratic? Is funding democratic ... ? Can we get there from here?

I have just begun to do research on this myself. I've listed some resources below and some books to the right from folks that have much to offer on the subject. These will be of help to us as we discover where we are, who we are, and where we are going.
Focus on Causes (updated 01/12/01)


The lists still are not yet complete. These are not "my" lists. Rather, they reflect all the input I have received from you. The focus I envision includes all the barriers and the possible solutions to environmental-social problems/issues -- focusing on the causes rather than the effects. This led to creating two big catergories -- "Barriers / Solutions" and "Health and Ecological Issues." We can begin to ask why and how is such and such a barrier and how can it be turned into a solution with regard to the various issues. Some barriers may become solutions through some sort of modification, others through becoming their exact opposite. Many have their opposite. For instance, corporate prepared environmental education in the classroom is a barrier, but more enlightened environmental education is part of the solution. Same goes for the media, etc. Also, many items mean different things to different folks. For instance, some view sustainability as sustaining the natural world, ecosystems and the like while others view it as meaning sustaining human communities and the natural world. Please send any modifications/additions. If I have left out any of your additions, please resend.

The next step, of course, is to boil the list down, removing duplications, overlaps, items that are too closely related and the like.

BARRIERS / SOLUTIONS
Deep ecology movement
Environmental justice movement
Indigenous environmental movement
Information and sophistication required for its access
Environmental education
Media attention, production, and interpretation
Capitalism and "free" markets
Military industrial complex
Whistleblowers
Globalization, world trade, GATT, NAFTA
Professionalization of the environmental movement
Partnering between environmental groups and polluters
Lifestyle and personal consumption
EPA and polluters as clients
Regulatory reform
Putting your money to work (walking the talk)
Lobbying
Steady state economies
Political funding
Technological change
Information Warfare
Interaction beween enviros, community groups, regulators and industry
Mainstream enviro-groups and community needs
Role of foundations and funding
Action networks on the web
Role of government agencies
Right to know
Human health and medical professions
Role of academic research institutions
Legal system
Wise use and anti-environmentalism
Federal vs. state power
Risk assessment
Participation in decision-making
Who sets the agenda?
Economic growth
Cost benefit analysis
Environment and economy
Issue specific list of groups who can be relied upon to do the right thing
Social cost/impact analyses
Partnerships between environmentalists and public health groups and organizations
Environmental health education for medical professionals, and communities
Nonprofit advocacy rights
Creating and promoting clean alternative technologies
Eco-efficiency and stock market performance
The Natural Step
Eco-efficiency and green industries
Local production for local consumption
NIMBYism (not in my backyard)
Property rights
Population as cause and effect
Funding mechanisms
Private/public ownership of infrastructure
corporate charters
HEALTH AND ECOLOGICAL ISSUES
Poverty
Global justice and equality
Poor rural communities vs. major multinational corporations
Biotechnology
Corporate profit and human health
Environmentally mediated chronic illness; the variety and causes
Clearcutting forests
Air quality
Sprawl
Alternative transportation
Pesticides and health
Energy consumption
Renewable energy
Environmental justice
Protecting wildlife habitat
Conservation of resources
Human health and the increasing disease load directly attributable to environmental contamination
Water quality and quantity
Sustainability
Militarism and environment
Health impacts of environmental injustice
Children's environmental health
Climate change
Global warming
Education, Computers, Diversity & Sustainability


A subscriber to env21-l suggested that the item "Environmental education" is only the tip of the iceberg saying, "I think it's important to consider ALL institutional education as a barrier/solution and not just this... In other words, education for the global economy, the current dominant discourse in education which dwarfs any incarnation of environmental ed, is inherently unsustainable and anti-ecological." This very helpful person pointed me towards C. A. Bowers' works. I have located reviews for his latest books, Let Them Eat Data: How Computers Affect Education, Cultural Diversity, and the Prospects of Ecological Sustainability and The Culture of Denial: Why the Environmental Movement Needs a Strategy for Reforming Universities and Public Schools and a syllabus for his course. This is a good starting point for our discussion of the barriers to environmental solutions.

Closely related to the above is the question of whether or not the high costs of today's commercial internet -- sprawl, mindless irresponsibility, loss of capital, investment ruin, pollution, energy use, dislocation, increasing housing costs, eviction, and all the rest -- can ever be "balanced" by our more educational and activist uses of it.
Discussion


We have a new blog, feel free to post. I look foward to a lively discussion.
News
Corporations
Mainstream Environmentalism
Foundations
Related Resources


Stay tuned. Much more coming.

Didn't find what you are looking for? We've been online since 1996 and have created 1000's of pages. Search below and you may find just what you are looking for.
---
Michael R. Meuser
Data Research & GIS Specialist

MapCruzin.com is an independent firm specializing in GIS project development and data research. We created the first U.S. based interactive toxic chemical facility maps on the internet in 1996 and we have been online ever since. Learn more about us and our services.

Have a project in mind? If you have data, GIS project or custom shapefile needs contact Mike.